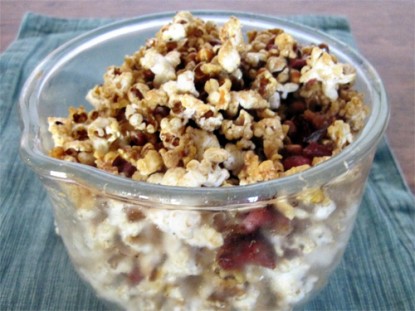 Maple bacon popcorn.
No-no-no-no-no-no. Apparently you don't understand.
Maple. Bacon. Popcorn. Men have proposed to me for less.
This recipe is pretty easy.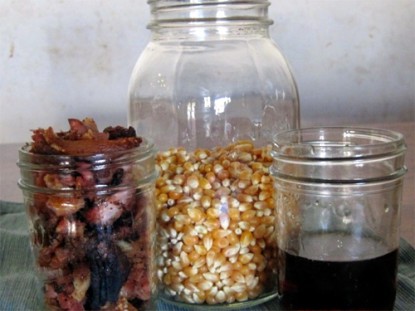 How to make Maple Bacon Popcorn:
4-5 slices of bacon, cooked and chopped. Reserve the fat.
1/2 cup popping corn
2 tablespoons maple syrup
3 tablespoons sugar
salt to taste
Pour the reserved bacon grease into a pan.
Set heat on high.
Add popping corn to pot.
Sprinkle 1 Tablespoon of sugar and some of the salt onto the kernels.
Place lid on pot.
Mix maple syrup and bacon together.
Shake covered pot repeatedly during popping process. Use a towel or oven mitts to help hold lid on. You don't want to burn yourself and hot sugar sticks like crazytown.
Once popping has slowed, remove from heat.
Mix in maple syrup/bacon mixture.
Enjoy!


Get the handy print page and save this to your recipe box here:
Maple Bacon Popcorn.

Larissa blogs at The Henway.

Do you have a recipe post or kitchen-related story to share on the Farm Bell blog?
Read information here for Farm Bell blog submissions.

Want to subscribe to the Farm Bell blog? Go here.