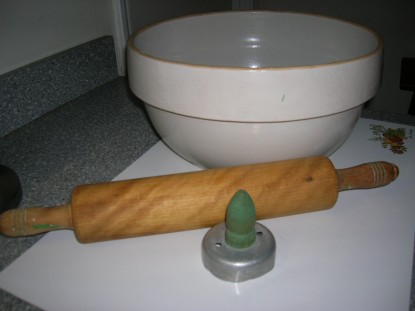 My mother had this crock for as long as I can remember. She kept it in the old, white kitchen cupboard with a flour sifter on one side and a bread drawer on the other. The crock was used to mix up the dough for her biscuits. It holds eight quarts. Momma was the champion when it came to making those big, fat buttermilk biscuits and she would make a lot of them at one time. We thought her cold biscuits with blackberry jam and fresh butter were treats to be savored. We ate them for a snack like kids today eat cookies. I can remember neighborhood children knocking on our door and asking my mother if she had any cold biscuits. Momma would always give them a biscuit with jam or jelly. I can shut my eyes and picture her with her floral apron mixing the dough and adding the buttermilk to this big, old crock. She used her hands to make the dough into a ball. Momma's green handled biscuit cutter and rolling pin along with the crock are still in use in my kitchen today. The paint has worn off the handles of the rolling pin from Momma's hands, along with mine, using it so many times.
I use the crock to mix up cakes from scratch and to mix the dough for my sourdough bread.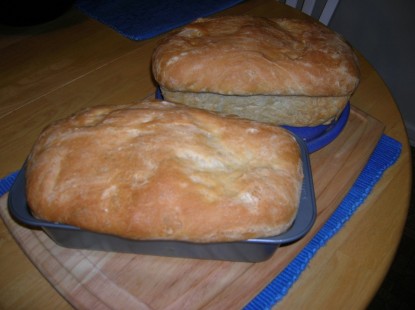 When my children were small and we lived on the farm, I used to make my bread all the time. Several months ago, I started making it again. My starter is made with instant mashed potato flakes and I feed it every five days and then make the bread. There is nothing like hot sourdough bread straight from the oven with butter. It is also wonderful toasted for sandwiches. I have very much enjoyed making bread for my family once again and also give it away as gifts to friends.
I always think of momma when I get the crock down off the top of my refrigerator every five days. I have several things that belonged to her but for some reason "the crock" just seems like a part of Momma that remains close to my heart. Hopefully, one day my girls will continue the tradition of bread making in one form or another and the crock will be passed to another generation. I think we all have things that have been passed to us from friends or relatives that mean a great deal to us or bring back memories. I would love to hear about something that is special to you.
Recipe for my Sourdough Bread and Starter.


The Southern Lady Cooks blogs at The Southern Lady Cooks.

Do you have a recipe post or kitchen-related story to share on the Farm Bell blog? See Farm Bell Blog Submissions for information and to submit a post.

Want to subscribe to the Farm Bell blog? Go here.
Check out the latest blog contributor giveaway!