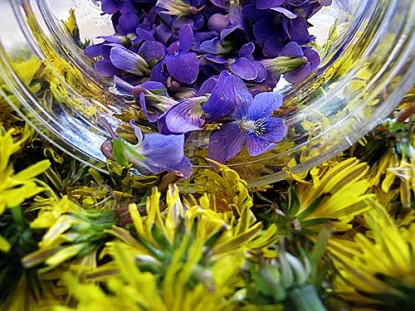 Difficulty: Easy
Servings: varies
Prep Time:
several hours
Cook Time:
BWB 10 minutes
Ingredients
For the infusion, per cup flower petals or herb leaves, add–
1 cup boiling water
For the jelly, per cup strained infusion, add–
powdered pectin*
1/8 cup lemon juice
2 cups sugar
*1 package powdered pectin will set up to 2 cups strained infusion. For 4 cups infusion, use 2 packages, and so on. For 3 cups infusion, go ahead and use 2 packages (and so on–for 5 cups, use 3 packages.) There is no natural pectin in flower petals and herbs, so a lot of pectin is required.
Directions
Boil water and steep petals/herb leaves overnight, one cup boiling water per one cup petals/leaves.  The next day, strain the infusion through cheesecloth to get a clear liquid.  When adding up cups of strained infusion, if you're short, add water to round up to the next cup then make jelly using the recipe above per cup strained infusion.  Combine strained infusion, powdered pectin, and lemon juice in a pot.  Bring to a boil over high heat.  Add sugar, stirring until dissolved.  Return to a rolling boil.  Boil hard 1 minute, stirring constantly.  Remove from heat.  Ladle hot jelly into hot jars.  Process in a boiling water bath 10 minutes.
Categories: Boiling Water Bath, BWB Jams, Jellies, Butters & Preserves, Canning, Old-Fashioned, Preserving
Submitted by: suzanne-mcminn on April 20, 2011