Farm Bell Recipes blog contributors are eligible (and automatically entered!) in a giveaway each month in which one contributor will be drawn (by random.org, using the days of the month that posts run) to receive a prize. Each month's prize (and previous month's winner) will be listed here, in a blog post on the Farm Bell Recipes blog, and in the Chickens in the Road newsletter.
The prize for the March contributor giveaway was a 50th anniversary edition of Volume 1 of Julia Child's Mastering the Art of French Cooking. Random.org selected #19. The post that ran on the Farm Bell Recipes blog on March 19 was Friendship, Grace, and Fine China by mom2girls. (mom2girls, email me at [email protected] with your full name and address for shipping! Would love to see some french recipes that you've mastered!)
If you submit a post, you will be notified in advance as to when your post will run. Posts run as space is available and are subject to editorial approval.
Posts on the Farm Bell blog may be recipes, cooking memories, kitchen chat, or just about anything and everything food-related. A trip down the pages of an old recipe book. A list of favorite old-fashioned kitchen gadgets. An ode to your favorite fruit or vegetable. Ideas for entertaining. Memories of learning to can with your grandmother. Your favorite ways to use up all that zucchini in the summer, or a sentimental set of dishes.
If it's about cooking and the kitchen and food, it belongs on the Farm Bell blog!
To submit a post, go here!
(If you need help submitting a post, we have a tutorial here.)
Note: You must be a registered member of Farm Bell Recipes to submit a post.
The prize for the April contributor giveaway will be another Sunbeam Donut Maker
. Robin (and her girls!) seem to be enjoying hers so well…brownies, just genius!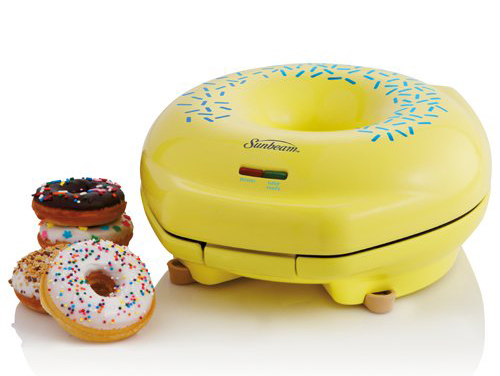 We'd love to hear your voice!


Do you have a recipe post or kitchen-related story to share on the Farm Bell blog? See Farm Bell Blog Submissions for information and to submit a post.

Want to subscribe to the Farm Bell blog? Go here.