In elementary school, my brothers and I brown bagged it for lunch. Many times it was peanut butter and jelly, but quite often it was bologna–not pre-sliced bologna you find in the packaged lunch meat section today, but the good stuff, bought by the hunk. (I actually don't remember pre-sliced, pre-packaged bologna when I was a kid, maybe I just wasn't observant.)
Every once in a while, Mom would make our brown bagging a little more exciting. Instead of peanut butter and jelly or thick sliced bologna, there was ground bologna between those homemade slices of bread. In that Ground Bologna was everything I loved in a bologna sandwich and more–ham and pickle were added in and sometimes some cheese. And because a spread is an even easier way to throw a sandwich together, kids love it!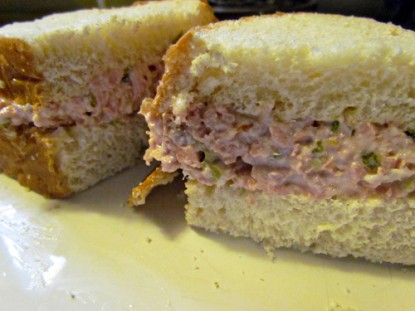 As many of you know, I'm an ingredient reader. Sometimes I'll even take a picture of those ingredients then go home and duplicate it. I decided to duplicate the Ham Spread at my local grocer's deli counter. There was no duplicating needed! What is now known as Ham Spread is my Ground Bologna. Maybe they don't want you to know there is bologna in it. And my mind thinks there is more, but I'm not going to go there. I love my version! And oh, so much cheaper than that Ham Spread found in the deli section.
How to make Ham Spread (Ground Bologna): Printable
With a meat grinder, grind equal amounts of ham and bologna. I make it in 2 pound recipes (1 pound of each).
You can use relish (dill or sweet, your preference), but since I can my own dill pickles, I just grind up a couple pickles after I've put the meats through. I use 1/2 cup relish per pound of meat, so I'm using 1 cup of ground pickle here. If you'd like cheese in yours, add 1/2 cup per pound of meat.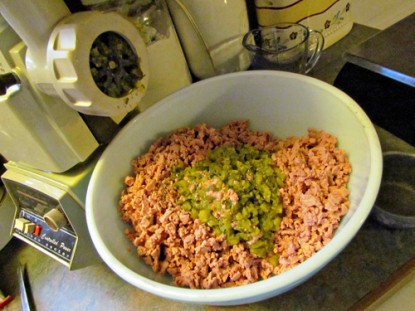 Mix everything together.
Now add in mayonnaise, 1/2 cup per pound of meat (I'm using 1 cup).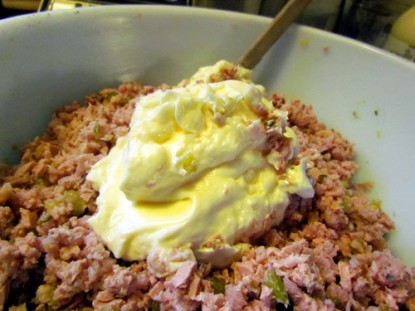 Mix it all together and you've got Ground Bologna. Or Ham Spread as they call it now.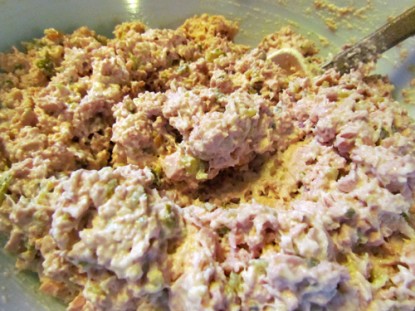 Not only is it good in a sandwich, it's a great spread with crackers.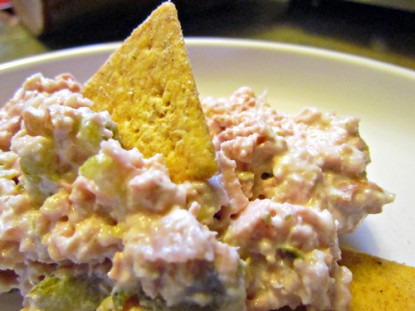 That's why I make it in 2 pound recipes–a ground bologna sandwich for lunch and crackers with dip for supper. It's all good!


Cindy blogs at Our Life Simplified.

Do you have a recipe post or kitchen-related story to share on the Farm Bell blog?
See Farm Bell Blog Submissions for information, the latest blog contributor giveaway, and to submit a post.

Want to subscribe to the Farm Bell blog? Go here.
What can you enter to win this month? Click here.