We've all purchased perfectly square bread. We've all never given it another thought.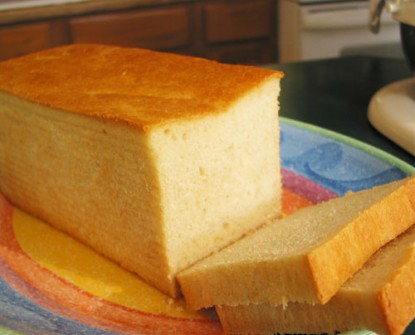 I remember the square white sliced bread that my mother would never buy…the kind that you could wad up into a ball a fraction of the size of the slice it started out as. When I could get it (usually at a friend's house on a sleepover) that was what I did with it. It tasted better wadded up into a ball.
One of my favorite breads I used to buy, when I could find it, was white Texas toast, an undeniably square loaf cut thick for french toast and giant sandwiches. It's square. Did I notice? No. Did I wonder how that happened? No.
Aside from Texas Toast, perfectly square loaves of bread don't seem to be so common. Bread companies began to sell more authentic-looking pan-baked loaves with gently rounded tops, reminiscent of the bread Mom used to make. They were still sort of rectangular. But not square.
So one day I was poking around here on CITR and saw a reference to a Pullman pan. I of course immediately thought of the Pullman car on a train. I had never, ever heard of a Pullman loaf pan. Ever. Not even once. You'd think with all the food shows and educational channel shows I watch, I must have come across an episode explaining how people make square bread. If I did, I don't remember. Or maybe it's not a fascinating enough topic? Well, now it is to me.
I looked up Pullman pans online. They were incredibly expensive: 30-40 dollars for one pan! Gulp. But they were the real thing: an industrial-strength square pan made of corrugated steel for strength and aluminum for heat conductivity. It would last forever. They had a nifty sliding cover on them to completely enclose the loaf. I was intrigued, but I set the idea of a Pullman loaf pan on the back burner.
Until one day. One day, in a moment of weakness, I did a search and came up with shopping results for Pullman pans. Thanks to (the dratted) Amazon one-click ordering, I quickly became the proud owner of not one, but two Pullman pans of different sizes. I was obviously on my way to baking a loaf of bread in a Pullman pan. So I started researching it.
The consensus on most websites is that the Pullman pan is named after and originated in Pullman car kitchens–square bread took up less room in ovens and small storage areas. This term seems to be interchangeably used with the name pain de mie, which means 'bread' and 'crumb' (crumb meaning the texture and quality of the bread, not crumbled bread). The pain de mie recipes I found are richer than regular old white bread with just the usual ingredients.
Wikipedia says "pain de mie is sweeter than regular french bread, containing sugar and milk". Of the two recipes I found, both contain those ingredients, along with butter, in addition to flour, water, yeast and salt. The Grandmother Bread for Pastries is very similar to a pain de mie recipe. The method of assembly is somewhat different–the butter is melted and added to the dough like the other wet ingredients, rather than cut into the flour as you would do for pastry.
I made a loaf. I did not follow a recipe for pain de mie–I used a 2-loaf recipe for Grandmother Bread. This recipe filled the Pullman pan and also a small regular loaf pan.
Here is a shot of the Pullman pan, along with the wad of dough I just finished before its first rise. I sprayed the pan well with cooking spray, including the lid, to prepare for the second rise.


After the first rise, I formed a log the length of my biggest pan, (13? long) and pressed it into the pan. The top of the loaf was sprayed with cooking spray and lightly covered with plastic wrap for the second rise.


I overshot my time and the second rise overstepped its bounds a little, going about half an inch above the top of the pan. You're supposed to get it at about 1/2 an inch from the top of the pan! I just gently patted it down and slid the lid on and popped it into a 350° F oven for 25 minutes.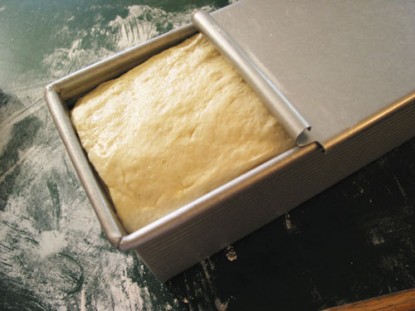 At 25 minutes, out it came to lose its lid. The loaf was already a light golden color and perfectly square! I put it back into the oven for another 30 minutes to continue to bake and brown. I'm aiming for an internal temp of 190°F.
Here we go! It's gorgeous! I have square bread! I've wrestled a load of dough into a geometric shape! People who sell me Texas Toast, eat your hearts out!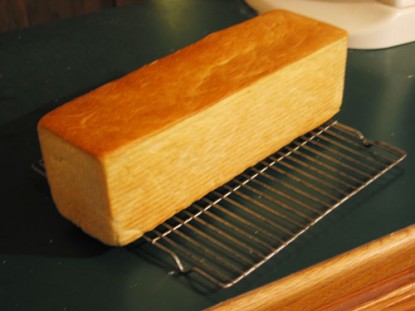 The crumb is beautiful and regular and I can't wait to have some toast for breakfast or a grilled cheese. An added bonus is that if you don't like crust, you'll notice that there isn't much of one, except on the top.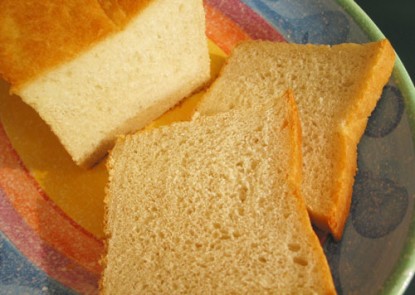 The two Pullman pans, plus an airtight plastic storage bin designed for such loaves cost me about 68 bucks. Happy birthday to me. I'll get a lot of use out of them though. And they'll last a long time because they are extremely heavy. Don't drop one on your foot!