In my journey to clean out the freezer to make room for this year's pickings I came across a container of apricots patiently waiting to be made into jam. Along with the apricots, I had a package of beautiful fresh blueberries in the refrigerator.
I began to wonder how successful it would be to mix the apricots with the blueberries for my jam. After some online searching I found a handful of possible recipes. As seems to be typical, I didn't really like any of the ideas I found so I made up my own recipe using the Sure Jell pectin directions as a guide.
Although I didn't find exactly what I was looking for by way of apricots and blueberries together, I did come across an interesting Blueberry jam recipe with Basil. I have been making a concerted effort to use more herbs in my canning so I threw in a handful of chopped basil for an exciting little twist. The results were prizewinning! I took some of this jam to our 4th of July celebrations and came home with an empty bottle!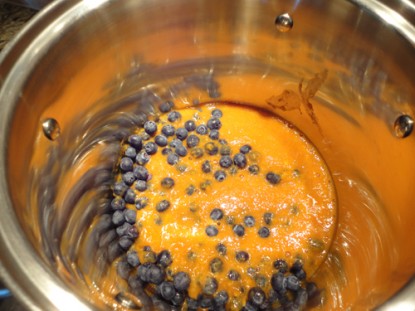 How to make Blueberry Apricot Jam With Basil:
4 Cups Apricots, finely chopped
4 Cups Blueberries, lightly mashed
1/4 Cup Lemon Juice
1 Box Powder Pectin
7 Cups Sugar
1 Tablespoon Butter
1/4 Cup Basil, finely chopped

Combine fruit, lemon juice and pectin in a large pot. Bring mixture to a full rolling boil on high heat, stirring constantly. Quickly add sugar and return to a full rolling boil, add butter. Boil exactly 1 minute, stirring constantly. Remove from heat, skim off any foam. Ladle into prepared jars, process in boiling water canner for 10 minutes.



Get the handy print page and save this to your recipe box here:
Blueberry Apricot Jam With Basil.
Jayme Payne blogs at Dreaming of Poultry.

Do you have a recipe post or kitchen-related story to share on the Farm Bell blog?
See Farm Bell Blog Submissions for information, the latest blog contributor giveaway, and to submit a post.

Want to subscribe to the Farm Bell blog? Go here.
What can you enter to win this month? Click here.