My older daughter, who lives nearby, makes up a dozen hard boiled eggs for my ease in being sure that I get nutrients when these lungs are too fatigued to cook.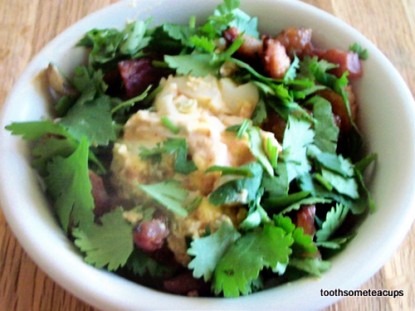 How to make Cold Bacon & Eggs Breakfast:
Chop a hard boiled egg up with a tablespoon of yogurt, sour cream or mayo, 2 pinches Chile Con Lìmon (from the veggie area of most markets especially those which sell Mexican foods) or a pinch of cayenne, sprinkle with cooked bacon (using those delicious, affordable end scraps, scissor cut and a pound is fried ahead and kept in fridge) then top with scissor cut cilantro leaves and enjoy a filling and satisfying meal or snack.
Get the handy print page and save this to your recipe box here:
Cold Bacon & Eggs Breakfast.


On those days I can't chew meat because I am not breathing well enough or my dentures are acting up, teetering and making painful scrapes, the rest of a pork roast goes in hunks into the processor. Then some leftover mashed potatoes brought by thoughtful family members with a turkey wing, perhaps, or a chicken fried steak or meatloaf slices–or from a box. Close your ears/eyes, Executive Chef granddaughter! Add in a bit of butter, salt, ground black pepper, egg, bread crumbs or smashed leftover old saltines/Ritz, whatever. Make patties and fry in a bit of olive oil and butter to delicious golden brown on both sides! This California girl always adds cilantro! A dollop of sour cream is great. These are also great eaten cold with marinated beets and a dollop of mayo or yogurt with wasabi paste (in tubes at the supermarket) and a splash of Tamari.
Does the family tease me about this being baby food? YES!
Another favorite way to use cilantro: scissor cut cilantro leaves and stems in boiling water for a great cooling toxic cleansing tea! Make up a quart and sip throughout the day.
I once read that a person could not live off jack rabbit meat because it has no fat, being the runner they are in that hot desert. Many old recipes add bacon strips to many duck and wild game bird recipes.
NET NEWS mentioned that Conan O'Brien said in a graduation speech at Dartmouth: "Don't fear failure, but prepare for disappointment!" What a great short line to remember when tweaking those recipes!

rose weist blogs at Toothsome Teacups.

Do you have a recipe post or kitchen-related story to share on the Farm Bell blog?
See Farm Bell Blog Submissions for information, the latest blog contributor giveaway, and to submit a post.

Want to subscribe to the Farm Bell blog? Go here.