This is a recipe I found around the internet when I was looking to copycat the Kentucky Kernel Flour which is what KFC basically uses for their coating. I wanted it low/no salt, so I switched out the salts for more powders and used tomato powder instead of the Lipton Soup Mix with a little more onion and garlic powders. It is very good and flavorful!
I use it in many dishes, not just chicken. It is so flavorful, a little bit will go a long ways.
How to make Homemade Kentucky Kernel Coating:
Place all ingredients in blender, spice grinder or chopper "pulsing" 3-4 minutes to pulverize:
1 tablespoon rosemary
1 tablespoon oregano
1 tablespoon powdered sage
1 teaspoon powdered ginger
1 teaspoon marjoram
1 1/2 teaspoons thyme
3 tablespoons packed brown sugar
3 tablespoons dry minced parsley
1 teaspoon pepper
1 tablespoon paprika
2 tablespoons garlic salt/powder
2 tablespoons onion salt/powder
4 teaspoons powdered chicken bouillon (or 4 cubes mashed)
1 package Lipton Tomato Cup-a-Soup Mix OR 1 Tablespoon tomato powder
Store in an airtight container so it will not lose potency.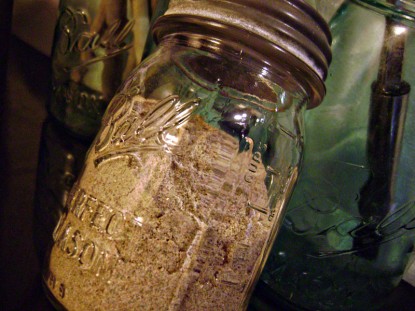 Makes about 1 1/4 cups of mix.
To Prepare the Coating Mix:
Add 2 Tablespoons mix to 1 cup of flour, mixing well. I shake together in the bag I'm going to dip my pieces in.


I'm not sure if you can find tomato powder in all grocery stores, some Amish stores do have it. But you can easily make your own. With a dehydrator and grinder, you can make virtually any powder you could think of! These are some cherry tomatoes from last year.
After putting about a 1/4 cup through the spice grinder, you'll have about 2 Tablespoons of tomato powder.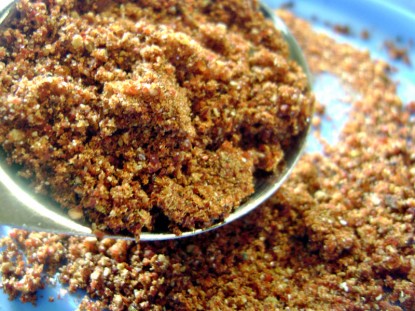 Get the handy print page and save this to your recipe box here:
Homemade Kentucky Kernel Coating.
Cindy blogs at Chippewa Creek ~ Our Life Simplified.

Do you have a recipe post or kitchen-related story to share on the Farm Bell blog?
See Farm Bell Blog Submissions for information, the latest blog contributor giveaway, and to submit a post.

Want to subscribe to the Farm Bell blog? Go here.
What can you enter to win this month? Click here.