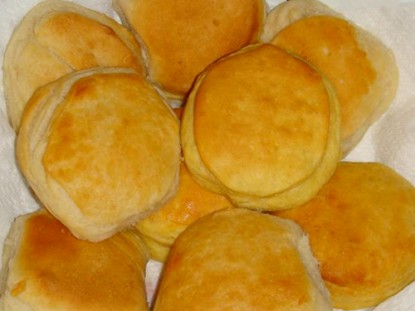 Yesterday, while sorting through my recipe box, I found something totally unexpected: a recipe from my mom on how she made Hardee's biscuits.
Mom died in 1996, and though there's always some kind of memory I have of her daily, this was especially poignant. I guess because the page is written in her hand. For some reason, in that lightning fast moment, I felt really close to her. And a flood of emotions hit.
I remembered how she took great pride in her cooking, and enjoyed "laying out" a feast for her family and friends.
I remembered seeing her standing at the stove stirring five pots at once.
I remembered how she canned in the summer so we'd always have good food to eat in the winter.
I remembered her laughter.
I remembered her selfless love.
And I also remembered how August 27th would have been her and Daddy's wedding anniversary.
The handwriting on that piece of paper is shaky, evidence not only of her third grade education, but also of her failing health in her latter years.
You know, I don't cook much like I used to. When it's only hubby and me now, I don't see the need for a full-fledged meal.
But, for some reason, I suddenly got a hankering for hot, fresh-from-the-oven Hardee's-style biscuits.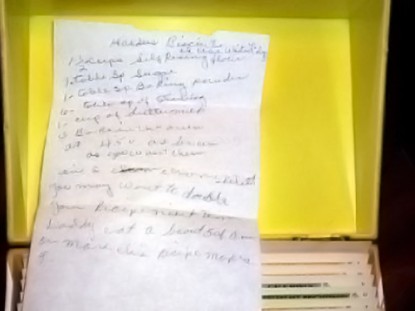 Mom's Recipe for Hardee's Biscuits:
1 1/2 cup self-rising flour (Mom used White Lily)
1 tablespoon sugar
1 tablespoon baking powder
6 tablespoons shortening
1 cup of buttermilk
Mix dry ingredients. Cut shortening into flour mixture, and slowly add buttermilk. Pour onto floured board and knead gently. Roll out into about a 1" thickness and cut with biscuit cutter. Oil iron skillet and bake in hot oven at 450 for about 15 minutes (brown to personal preference).
Yield: 9 biscuits.
Get the handy print page and save this to your recipe box here:
Hardee's Biscuits.

You can also find Miss Mae at Miss Mae.

Interested in contributing a guest post to the Farm Bell blog? Read information here for Farm Bell blog submissions.

Want to subscribe to the Farm Bell blog? Go here.