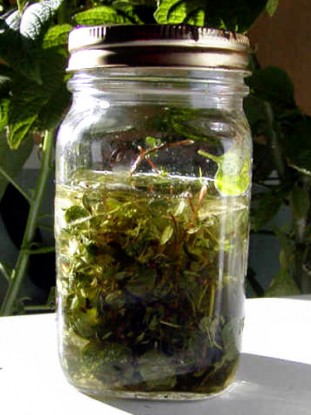 I use my herbal-infused oils for cooking and soapmaking. I also like to use the oil as a moisturizer for skin and a hot oil treatment for hair. If you use olive oil for the herbal oil base you will be nourishing your heart, skin and hair even more. Olive oil is also very good for you!
The vinegars make great salad dressings and herbs in vinegar keep for a very long time in the fridge since vinegar kills bacteria.
When you are using the oils for cooking, it's important to keep it refrigerated and to use it within a week. Otherwise you run the risk of bacteria growing in it that was introduced with the herbs. Sometime botulism can accumulate under the oil in the semi-airless environment, making it very important not to keep the oils for too long a period before discarding. If your herbal oil gets too old, you can always make soap with it. Even the garlic oil. Garlic applied topically is good for your circulation!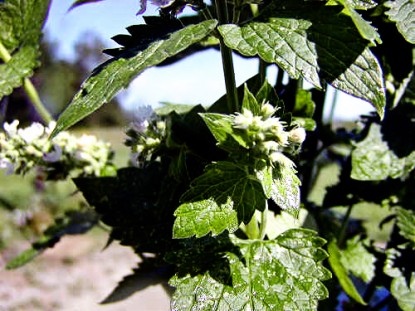 The herbal oils and vinegars can be made with just about anything in your garden. I like to keep garlic oil in the fridge at all times. We use a lot of it and its much easier to pour in some oil than it is to peel and mince several garlic cloves for dinner.
One of my favorite herbs is basil. We love basil! I will be making some basil cooking oil soon and put it in the fridge door. It will be used up within a few days. We are using fresh basil at the moment since we have a lot growing in the garden, waiting to be made into pesto. I could make a combination garlic and basil oil!
First a trip to the herb garden.
My herb garden is a "lasagna" garden. This is where I grow everything perennial. Most of my herbs are perennial, except for the basil and cilantro.
If you want herbal oil for your soap in the winter, you will need to collect the herbs for it now or grow them indoors on a windowsill. I do have a large pot of thyme and a pot of chives that I grow indoors in the kitchen, in front of the south facing patio door. They need a lot of sun in the wintertime.
You can freeze herbs straight from the garden until they are ready to be made into herbal oil for soap, vinegars, teas or jellies. This is a bucket of frozen mint from the field. It grows wild all over here!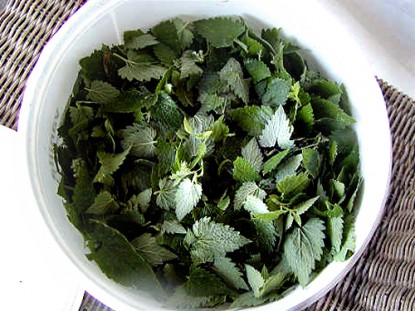 Right now I want to make oil infused with oregano and thyme for their antibiotic and antiseptic properties in soap. I make an herbal, antibiotic soap with organic herbal oil from my garden. I could also make a tea with the herbs and use that water in the soap. Unfortunately, the soapmaking process destroys the scent of the herbs, but the properties remain in the soap. Any herbal scent or color the soap has is added later. If you are making melt-and-pour soap, why not try herbal tea for soaking the grated pieces for melting?
I grow a lot of oregano since I use it to make soap but we do like it fresh in spaghetti sauce or on chicken with lemon. It goes well in a lot of things!
I use fresh thyme in everything I can since it is a natural antibiotic. Before the discovery of penicillin, thymol was being looked at as a antibiotic for public use but then penicillin came along and everyone focused on it. The thymol went by the wayside. It's present in a lot of herbs, not just its namesake, thyme. Bee balm (monarda) has a lot of thymol in it, as well. I have a bucket of red monarda didima petals in the freezer, waiting for something. I'm not sure what yet. Maybe jelly…
I am clipping a mason jar full of thyme and oregano. I will rinse the leaves and crush them in the jar. If using a large amount, you could speed this process by using a food processor or blender with the oil. I am only making one jarful. I will crush them by hand then cover them with oil. If I am doing this in the cold weather, I will warm the oil slightly before pouring it over the herbs, but at this time of year it's not necessary. I can warm the jar a lot by setting it in the sun for an afternoon.
After they are covered with oil, I put on the lid and let it sit for a couple of weeks for soapmaking, shaking it daily or whenever I think of it. If I am making this oil for cooking, it goes directly into the fridge and I shake it, off and on, whenever I open the fridge door.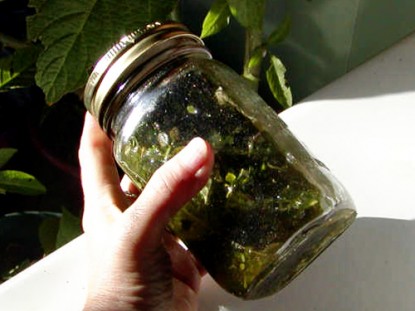 If making an herbal vinegar, crush the rinsed herbs and cover with vinegar. Let it sit for a few days, shaking it often. Then you can strain it, if you so desire, or leave the herbs in the vinegar for a natural look. The vinegars will keep for a very long time in the fridge. Any kind of vinegar will make a good herbal rinse for hair. If you are cooking with it, try the different kinds of vinegar with different herbs. Lemon juice added to an herbal vinegar made with oregano is heavenly on chicken!
This is frozen bucket of rose petals. Cut the petals off the rose, leaving the white bottom of the petal attached. Its a bit bitter. I could make some rose vinegar! I also have a bucket full of wild day lily petals in the freezer. I have no idea what I will do with those. Perhaps another flower vinegar, jelly or wine. You can make oils and vinegars with just about anything organic from your garden. Experiment!

You can also find Sheryl at Providence Acres.

Interested in contributing a guest post to the Farm Bell blog? Read information here for Farm Bell blog submissions.

Want to subscribe to the Farm Bell blog? Go here.