For months I toyed around with the idea of a savory version of a cinnamon bun. You know, replace the cinnamon and sugar with herbs and cheese for all the swirly fun of a cinnamon roll that can be eaten with dinner. Then, about a week and half ago, I saw a picture of a giant, pan-sized, cinnamon roll.
Whoa.
Immediately I wanted to make a giant savory dinner roll. And it is So. Very. Good.
Want to make your own?
How to make Herb and Cheese Dinner Roll:
Enough Grandmother Bread dough for 1 loaf of bread
¼ cup butter
1 tablespoon Italian herbs
3 handfuls of shredded cheese
Start by making one loaf worth of Grandmother Bread dough, all the way through the first rise. Towards the end of the rising time, put the butter and herbs into a dish, and heat until the butter has melted and released all the great flavors of the herbs.
To make the roll, begin my pulling away about one third of the dough, and press it out into a rectangle. When I make it the dimensions are about 9×12, but really I just try to keep it all on my cutting board for easier clean-up.
Once pressed into a rectangle, pour about one-third of the butter-herb mixture onto the dough, and spread it all the way to the edges with a spatula.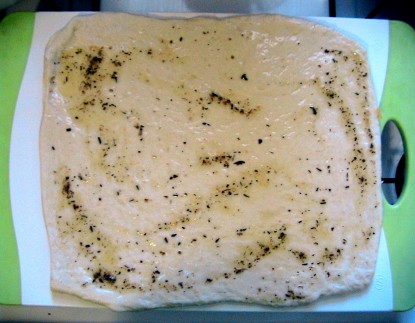 Grab a handful of cheese and sprinkle it over the dough. Slice into one-inch wide strips (I use a pizza cutter).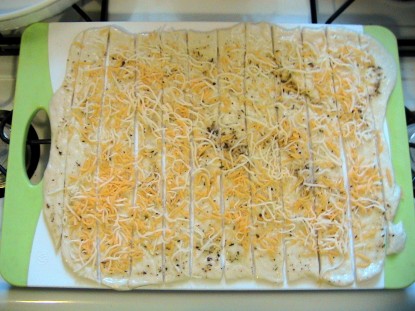 Now the rolling begins! Start by rolling one strip and placing it in the middle of the pan.


Grab the next strip and lay it in the pan. Line up one end to overlap slightly with the roll already in the pan, then wrap the strip around the roll.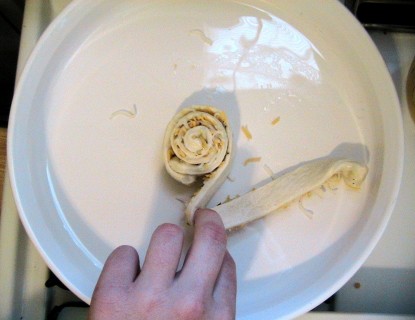 Continue until you have used up all the strips, then all the bread dough. Sprinkle any remaining cheese over the top.


Turn on the oven to 350 degrees. I let the roll sit on my stove top while the oven preheats. Once the oven is hot, bake the roll for 25-30 minutes.


I slice it into wedges to serve, which really showcases the layers. Enjoy!


Get the handy print page and save this to your recipe box here:
Herb and Cheese Dinner Roll.
Do you have a recipe post or kitchen-related story to share on the Farm Bell blog?
See Farm Bell Blog Submissions for information, the latest blog contributor giveaway, and to submit a post.

Want to subscribe to the Farm Bell blog? Go here.
What can you enter to win this month? Click here.