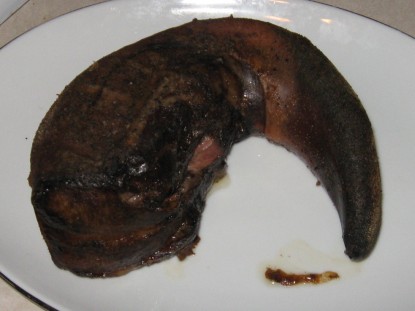 Lets talk tongue. Oh yeah…
Every once in a while I get a craving for a good beef tongue burrito. When I make those, I use a lot of cumin, cilantro, chili, etc.
This time we're making shredded tongue for sandwiches. In my opinion, tongue is the best cut of beef, you just have to be brave enough to peel it…
How to Cook Beef Tongue:
Start with one fresh tongue. This one is from our own beef. If I don't have any, the grocer usually gives them to me because he doesn't know anyone else who eats them so they don't sell at his store.
Place in the crock pot and season with salt, pepper, and garlic. Drizzle a little olive oil, not much though!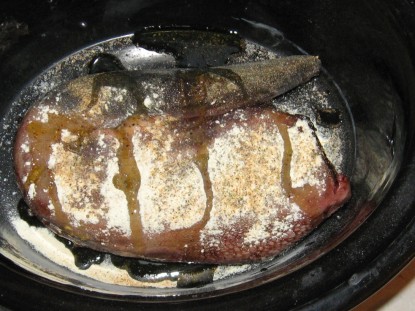 Cook on low for 10 hours.
Take the tongue out of the pot and let cool. Or don't let it cool, but it's really hot and peeling is a hands-on kind of thing.
I make a cut just to give me a place to start with the peeling bit.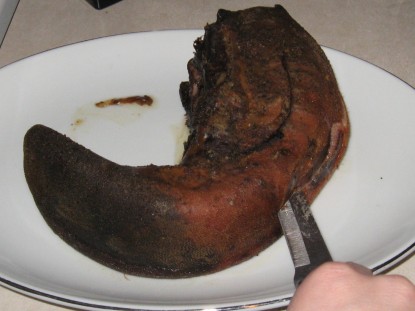 It actually comes right off–kind of like a sock–maybe sticking in a few places, but nothing difficult.
I feed the skin to the dog and cat.
Cut the tongue up and put back in the crock pot with tomatoes and more garlic and some Mrs. Dash or similar spice mix.
Cook on low another 10 hours.


We eat it on rolls or in tortillas. It's also great tossed in with scrambled eggs or potatoes. It takes a couple of days in the crock pot, but it's not a lot of work and tastes so good!
Get the handy print page and save this to your recipe box here:
Cooking Beef Tongue.
Rachel blogs at The Henway.

Do you have a recipe post or kitchen-related story to share on the Farm Bell blog? See Farm Bell Blog Submissions for information and to submit a post.

Want to subscribe to the Farm Bell blog? Go here.