Kellyb's post the other day about not being perfect reminded me that I promised LauraP I'd write a post-Retreat-This-Is-What-I-Learned-Its-So-Awesome post. Oddly enough, it reminded me, because one of my first attempts was a complete failure! But I'll post in here anyway, in hopes that someone else will have more success than I did.
Cincyjojo brought some dehydrated watermelon to the Retreat, and since somehow a Ronco Deyhdrator jumped in my trunk for the trip home, I thought I'd try it out.
So I bought a medium sized watermelon, and quartered it. Then I scored the rind to mark 1/2″ slices before slicing it and removing the rinds.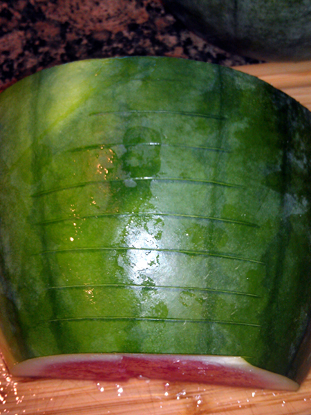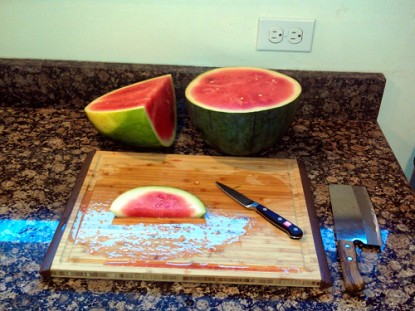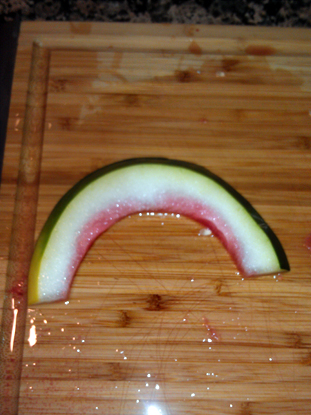 Suzanne's chickens would cry to know that I threw them away, but I imagine you could also pickle the rinds if you were so inclined.
After layering the watermelon in the trays (there were a few slices too many that I had to eat. Darn!),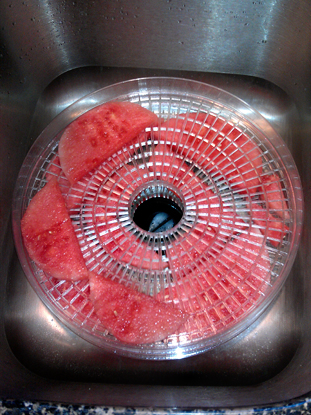 I plugged in the ol' dehydrator, and spent two days faithfully rotating trays every few hours.
The third morning, I woke up to the smell of rotting watermelon in my kitchen. Almost all of the slices had white yucky mold growing on them!! Blech. The whole batch went down the garbage disposal. Oh well.
I don't know what happened, I think it was just too much for the dehydrator. I've ordered a refurbished Excalibur to compare. Just to compare, mind you. I'm not going to KEEP it. No really. I'm going to send it back.


Anyway, as a consolation prize, today I PC'd a load of dried black beans, following Dede's excellent instructions. Success! This is the first load I've PC'd with no siphoning.
Hooray!!


Do you have a recipe post or kitchen-related story to share on the Farm Bell blog?
See Farm Bell Blog Submissions for information, the latest blog contributor giveaway, and to submit a post.

Want to subscribe to the Farm Bell blog? Go here.
What can you enter to win this month? Click here.