Planning anything with my friend Linda is like an overload on the idea of having "eyes too big for our stomach". Only it's not about eating too much…well, sometimes it is, but I'm not getting into that right now. It's about thinking we can fit 68 hours of activity into an afternoon–with time to spare!
It happens all the time. Like the year we decided to pick blueberries on a day when the temperature soared over 100 degrees. But why stop there? We brought the berries home (to a non-air-conditioned house) and proceeded to make blueberry scones and blueberry coffee cake. All before we started in on dinner!
Nuts? YES!
Last fall, we decided to can boxes of green beans, beets and carrots, while attempting to make an 'early' Thanksgiving dinner with most of the trimmings (including pumpkin pie and homemade rolls). Not crazy enough? Well, it happened to be on the same evening a group of 30 teenage boys and leaders came over to play paintball and cook 10 pizzas in the same kitchen we'd already maxed out!
We never learn from these enthusiastic planning times. We just keep planning them!
Recently, Linda's daughter, Andi, used fresh apples as centerpieces and accents at her wedding. Linda purchased apples wholesale from a local orchard and with the help of friends, decorated the church and reception hall beautifully.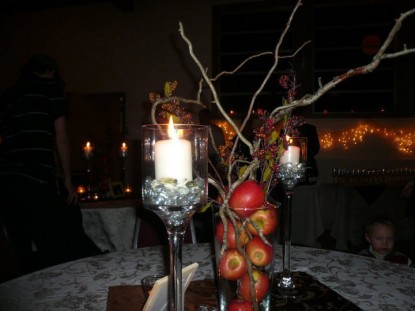 With the wedding over, I stuffed my car full of boxes of apples and brought them home. Linda and I planned on turning the apples into applesauce, pies, fritters, and crisp in the afternoon before taking a niece and nephew to an event we had tickets for (taking them to dinner first). Oh, and we also rented a movie to watch while we relaxed after it was all over!
Yeah, right!
Once again, we bit off way more than we could chew…it took three days to finish the apples, make some terrible tasting apple fritters and several bags of apple pie filling to freeze. And, oh yea, we turned some of that apple pie filling into apple turnovers for the big family dinner we'd planned. (We never did get to that movie we wanted to watch!)
Okay, so we're slow learners…but we make tons of memories that we can laugh about for years to come. Even if those planned events almost kill us sometimes. Most importantly, we have fun in the process!
Well, most of the time.


Kerrie blogs at City Girl Farming.

Do you have a recipe post or kitchen-related story to share on the Farm Bell blog?
See Farm Bell Blog Submissions for information, the latest blog contributor giveaway, and to submit a post.

Want to subscribe to the Farm Bell blog? Go here.
What can you enter to win this month? Click here.