I am completely self-taught in the kitchen. I have never taken a cooking class but I do use books–lots of different books. I live in Oregon and recently learned how to make cheese.
Then I bought books by Ricki Carroll and Mary Karlin to learn how to improve upon my cheese making. Then…I read Suzanne's blog–cheese making for a year. That became my inspiration. Every two weeks I get fresh raw milk, two gallons. With the milk, I make cheese and no-knead bread (using the whey). Sometimes my cheese turns out great! And sometimes it doesn't. I have not become disciplined at keeping notes. I forget to grab my notebook and my camera. But that does not stop me.
Right now, I am working on perfecting soft cheeses–mascarpone, creme fraiche, fromage blanc, queso fresco, yogurt, and kefir. I am working on a cheese press and a small refrigerator for my cheese cave.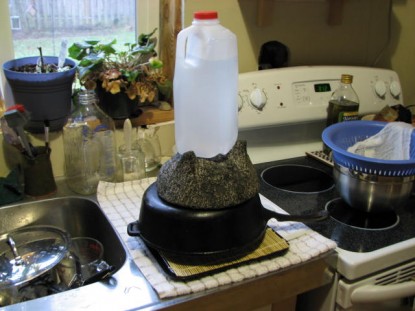 This summer I intend to start tackling more complex cheeses. I thought cheese making was some scary thing, but once I started I realized the scary was in my not knowing how to. There is still much trial and error but it is the journey not the destination. I love the challenge and the creation.
Art for some is drawing a picture or painting a landscape. Art for me is creating something with food. I always knew I was artistic. Now I've found my medium–cheese! What's yours?
Do you have a recipe post or kitchen-related story to share on the Farm Bell blog?

See

Farm Bell Blog Submissions

for information, the latest blog contributor giveaway, and to submit a post.

Want to subscribe to the Farm Bell blog?

Go here

.