I love apples, especially crisp, juicy, sweet tart ones. I don't like apple pie (gasp, the horror!). Applesauce is okay, although I never buy it. I don't like the texture and I don't care much for brown cinnamon. Maybe that's why I don't like apple pie.
Fortunately, for me, my mom took home economics in junior high around 1960. Her teacher taught the girls (I think it was an all-girls school) how to make a delicious kind of apple sauce that I adore. The secret is Red-Hot's candy. I have always loved the hot cinnamon candies: Fire Balls, Altoids, and Red-Hot's, and I even order my snow cones in the summer with the Fire Ball flavor. My dad used to give me the huge Fire Ball containers from Sam's every Christmas as my preferred candy.
Since I am fortunate enough to have this yummy way to make applesauce, I researched the Farm Bell recipe page and to my surprise didn't find a single applesauce containing Red-Hot's.
I am not sure of the official name; I have always called it Gramcracker's Applesauce. I am sure when my mom learned to make the applesauce the recipe had a name. The reason I call it Gramcracker's Applesauce, is my maternal grandmother is the one who always serves it. Usually she serves it with toast more as a jelly. That's was my favorite way to eat it until I discovered homemade flour tortillas this year at CITR party. Now, I enjoy a homemade flour tortilla with Gramcracker's Applesauce.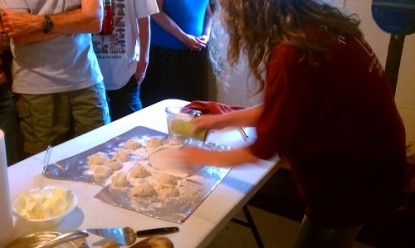 Suzanne showing the party goers how to roll out the dough.
You must be wondering why my maternal grandmother is called Gramcracker. Are you? Well the story goes two of my older cousins were having a tea party when they were around 3 or 4 years old. They were chanting, "Grandmama, we want some more gram crackers." A slight slip of the tongue, "graham cracker we want some Grandmama's." Well the name stuck and so she still goes by Gramcracker at 89 years young.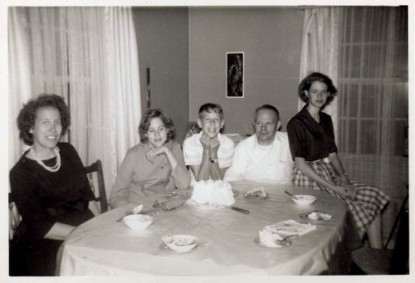 This photo was taken just a few years after learning the red hot apple sauce recipe. Left to right, Gramcraker, mom, uncle, grandfather and aunt 1963, another family favorite, ice cream cake, they are celebrating Gramcracker's college education.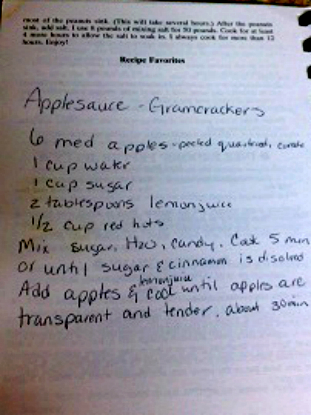 How to make Applesauce Red Hot Style aka Gramcracker's Applesauce: Printable
6 medium apples – peeled, quartered, and cored
1 cup of water
1 cup sugar (I use less, the Red Hot's are plenty sweet but I use a touch just to make syrup)
2 tablespoons lemon juice
1/2 cup Red Hot's (I use a box full, it's probably about 3/4 cup)


Mix sugar, water, and candy. Cook about 5 min or until sugar and cinnamon is dissolved.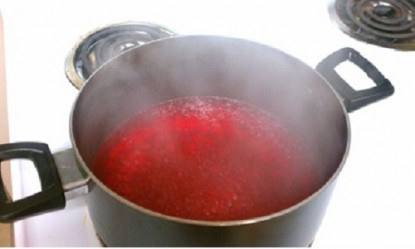 Add apples and lemon juice.


Cook until tender and transparent, about 30 minutes.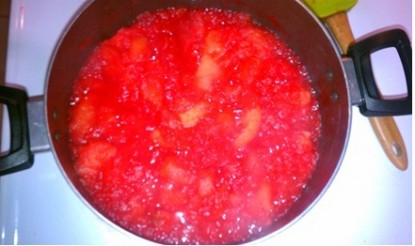 Since I like really hot, I use a shake or two of cayenne pepper to make it even spicier.
And to make sure it is perfect, homemade flour tortillas with applesauce. I hope you enjoy them as much I do.
Do you have a recipe post or kitchen-related story to share on the Farm Bell blog?
See Farm Bell Blog Submissions for information, the latest blog contributor giveaway, and to submit a post.

Want to subscribe to the Farm Bell blog? Go here.
What can you enter to win this month? Click here.