I'm very excited to announce that we've opened the Groups function on Farm Bell Recipes now. While we've had a Chickens in the Road forum for a couple of years now, what Groups offers is something wholly different. The forum is, for the most part, a structured environment. It's a fantastic place for question/answer discussion and acts as an information resource. With so many smart and talented people in our community here, it's an indispensable first-stop if you need to know something–about anything! There's always someone with an answer. Because it's a structured resource, we try to stay on-topic as much as possible. We do have a few topic threads that are more social, but a forum program isn't created in a way that supports that as much as I'd like.
Enter "Groups" on Farm Bell Recipes! Groups allow members to "group" themselves according to any description and can be made public or private. A public group is open to everyone who cares to join and is accessible to view by anyone (including non-members). Private groups are just that–private! Members must request permission to join or can join by invitation sent out by the creators of the group. Ever wish you could discuss something personal on the forum, but didn't want to slap it out there in front of the whole world? Or just wish you could chat with a group of member friends? Groups can be whatever you want them to be–and there's no need to stay on topic in your group! The topic is whatever you want it to be and it can stray as often as you like. Once you create a group, you're the Admin of that group. You will be the one to invite others and allow others to join (if it's private). YOU are the moderator!
I hope Groups here on FBR will make a perfect companion community to the structured resource of the forum. Groups is the wild child who can't stay in her seat. Have fun with it. Make your own groups, public or private, and create your own topics within the groups for specific conversations. So go ahead, jump in, play around. Create a group, invite friends. Join a group. If you see a private group you'd like to join, request membership. (For example, "Michigan Cooks" is a private group–if you live in Michigan, click on request membership to join.) Start a Bread Bakers group, or a Vegan group. Groups don't HAVE to be food-related, by the way! We're not swatting anybody for straying off-topic here. That's what a Groups community is all about!
Find Groups from the green sub-menu here.
To start your own group, just click Create Group. (Feel free!)
If you post in any public group, you will automatically join the group. Just click on a group from the Groups Directory. If it's a private group, you can click to Request Membership.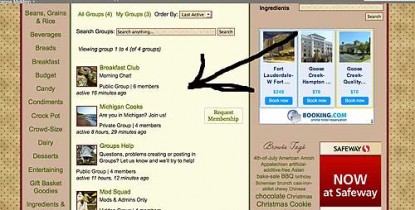 Scroll down to see the group's existing topics. If you click Add New Topic, you can make a new topic. (Feel free!)
Post a reply in the text box.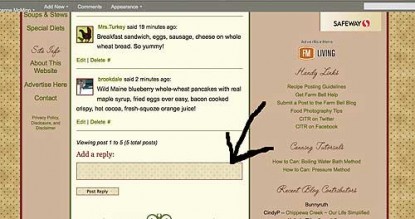 If you click on Activity in the group's menu:
You can view the group's activity and chat there, too. Just click Reply. (This works in a similar fashion to commenting on someone's activity on Facebook. All you have to do is click on Reply.)
See you in the Groups! Go to Groups now.
You can always access Groups by the "Groups" tab in the green sub-menu bar, and you can click on Groups also in the Member bar at the very top of the header to find your groups. Remember also to set your email options on each group you join to choose whether or not to receive notifications. Click on the group's Activity page to access the RSS, if you prefer to receive updates that way.

Do you have a recipe post or kitchen-related story to share on the Farm Bell blog?
Read information here for Farm Bell blog submissions.

Want to subscribe to the Farm Bell blog? Go here.