I've been making my own yogurt for awhile–from my own cow's milk, to boot! I love it. I started making yogurt in a crock pot and now I use this yogurt maker
, which has me spoiled by its auto shut-off and lack of required attention to temperature. I also love making my yogurt in individual cups. (By the way, another way to make yogurt in individual cups or a bowl is to make yogurt in a dehydrator, if you have an Excalibur or similar style dehydrator. I got my cute little yogurt maker before I got my Excal and still use it for my yogurt.)
My favorite way to make yogurt is to put about two tablespoons of whatever my latest favorite jam is in the bottom of each 6-ounce cup. After I've prepared the milk by adding the yogurt culture, I pour the milk mixture into the jars, over the jam, then set in my yogurt maker. After the yogurt is finished, I have individual cups of fruit-on-the-bottom yogurt. Sometimes I eat it with a spoon right out of the jar, but most often I dump my fruity yogurt into a bowl and top it with several scoops of my homemade cereal mix.
But enough about me! I'm perfectly satisfied with my yogurt experience. But Morgan…. She loves yogurt, but she doesn't like texture. NO TEXTURE for her! NONE. It bothered me to buy yogurt at the store for her when I had milk and could make yogurt at home. I set about trying to figure out how to make her favorite yogurt–blueberry–with NO TEXTURE. I have a stash of blueberry jam, but I knew that wouldn't do. Jam has the dreaded texture. I tried different experiments with blueberry syrup. I tried adding the syrup to the yogurt mixture before setting the yogurt. I tried putting blueberry syrup at the bottom of jars, where I would usually put jam. I tried putting syrup at the top of the jar! No matter what I tried, it didn't work to Morgan's satisfaction. Once the yogurt is set, stirring it in–either from on top of the jar or the bottom of the jar–results in an imperfect consistency. Adding the syrup before setting the yogurt results in a thin yogurt.
And then there was this intriguing little discussion on the CITR forum about making yogurt with flavored Jell-O. Aha! Could this be the ticket to perfectly smooth, fruit-flavored yogurt for Morgan? Only Sheryl-Runningtrails, who had started the discussion, had had a failure in her attempt. To unlock the secrets of Jell-O and yogurt, I would have to conduct my own trials.
I girded my loins and secured the CITR laboratory for experimentation.
I consulted with the chickens.
I meditated on the hills.
I bought a couple packages of Berry Blue Jell-O and also some Tropical Fusion Jell-O, two flavors Morgan deemed acceptable.
I also consulted the internet, and found a discussion on a forum somewhere about dissolving Jell-O in a cup of boiling water then adding it to yogurt after the yogurt is set then resetting the mixture together. I attempted this experiment, and it resulted in a lumpy consistency that was thoroughly enjoyed by the dogs since no human would touch it.
The Jell-O would have to be dissolved directly in the milk in order to achieve the consistency I was looking for. Adding gelatin to yogurt is a common practice, of course–but not flavored gelatin. Gelatin, if added to yogurt, is recommended in most recipes to be added while heating the milk to 180-degrees. For some reason, I decided to make my first experiment with adding the Jell-O directly to the yogurt at 116 degrees, just before adding the yogurt culture.
This actually worked really well, except not enough of the Jell-O dissolved for full flavor.
By the next attempt, I realized I should have followed instructions for using plain gelatin, adding the Jell-O as I heated the milk to 180. This gives the Jell-O plenty of heat and time to dissolve. By the time the mixture is down to 116 and ready for the yogurt culture, the Jell-O is almost completely dissolved. To ensure a perfect consistency with no potential for graininess (that would add TEXTURE!), I strained the milk mixture then added the culture. (You may or may not need to strain it.) Whatever you do, don't bring your milk to a boil. 180 and no more.
Because Morgan had also complained about "froth" interfering with her perfectly smooth non-texture experience, I also dabbed off every last bit of frothy bubble I could from the top of the jars then set the yogurt.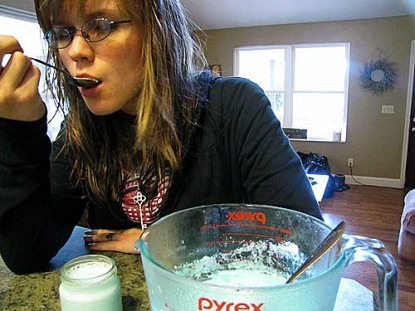 Morgan said, "It tastes like Go-Gurt."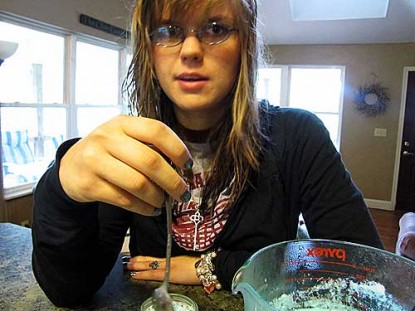 I have created homemade Go-Gurt! And she loves it, so from that standpoint, it's a success. As far as I'm concerned, this is a complete abomination. I'll take my plain yogurt with fruit on the bottom (homemade jam) any day. But if you've got kids, this might help you get homemade yogurt in them, too. Works for me!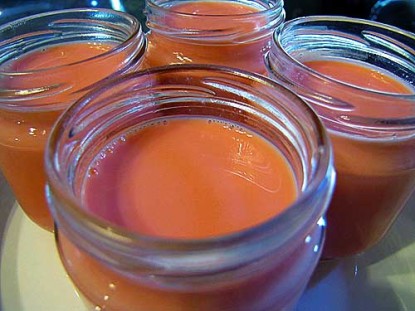 Get the printable here.
Do you have a recipe post or kitchen-related story to share on the Farm Bell blog?
See Farm Bell Blog Submissions for information, the latest blog contributor giveaway, and to submit a post.

Want to subscribe to the Farm Bell blog? Go here.
What can you enter to win this month? Click here.