What to do!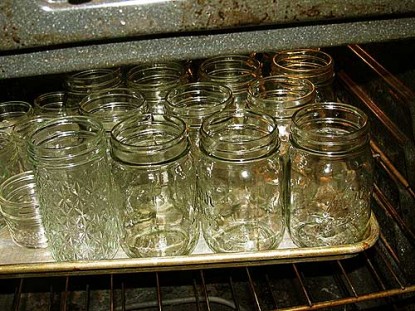 Have you ever gone to make a recipe and had too many variations to pick from? I've had quite the trouble with it lately. After 52 pints of straight raspberry low sugar jam, I wanted to make some variety. There are so very many variations that can be done with raspberries! And then there was the tomato dilemma. I had just a few ripe ones and I was stupid enough to purchase tomatoes (NO flavor at all). What was I to do to not waste them? I am in jamming mode, so I figured that I would try something new: tomato jam. I have blood sugar issues and didn't want a sweet tomato jam. This definitely added complexity to the idea.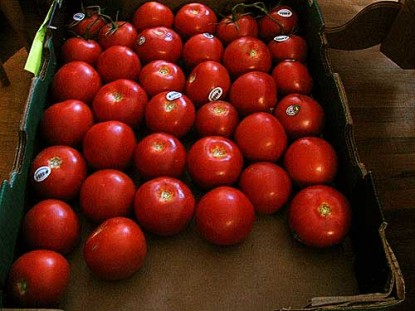 Canning season–or should I say summer–is a tough time. It seems like everything I go to do has many options and variations. It's like being at a fancy restaurant and trying to figure out what to order when everything sounds good! I'll share what I did with the raspberries and tomatoes.
At the store there were blackberries and strawberries on sale, so that solved the biggest part of the raspberry question. Great sales always win. I figured out the fruits. Then came the second problem. What proportions? Most recipes were mainly strawberries with just a bit of raspberries and blackberries. Well, after reading lots of recipes, I went with my lazy side: I put the raspberries that I picked from the day, the packages of strawberries, and the packages of blackberries all together and mashed them big time (my kids are chunk haters). So, I'm not sure how many raspberries other than three bigger bowls, 7 six-ounce containers of blackberries, and 5 one-pound containers of strawberries. That became the base.
I then figured out which pectin to use on this. There are many different kinds out there. For me, I have found a preference for low sugar jam with my blood sugars. I decided to use the Ball brand no sugar pectin since it was readily available and has a very basic fruit order–no exact ratios.
A third aspect was needed: How much sugar? This particular pectin allows up to 3 cups of sugar to four cups of fruit mash. I went with 2 1/4 cups since I also know that some sugar makes for better preservation. There, I had it. My recipe!!
Now on to the tomatoes. That was a much bigger challenge because I was stumped. I had never had such a thing before. I'd seen it mentioned on a canning list and on a tomato list that I'm on. I'd ignored it to that fateful day. I started hunting the internet for a recipe and they were all with a lot of sugar and with cinnamon and other sweet spices. Ugh. I finally went to the canning group and asked them for help. I wanted a low sugar, savory spread/jam. I was feeling really frustrated at that point. About an hour later, Darlene posted a savory recipe and I was so very excited!!!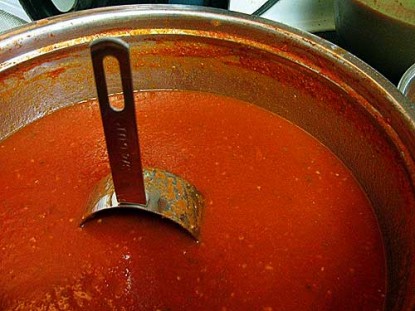 Thus, I found myself thrilled to death with a recipe that met the requirements. I cleaned up all the tomatoes and pureed them with skin on and seeds in. The seeds and skins add their own dimension that I enjoy. Again, since I was using a no sugar pectin, I only added 2 tablespoons to the large bowl of puree. Hot peppers, salt, garlic, and Italian seasonings. It turned out thankfully with a good texture and awesome flavor on fresh buttered bread.
You can also find Moopsee at Yahoo's Canning2.

Interested in contributing a guest post to the Farm Bell blog? Read information here for Farm Bell blog submissions.

Want to subscribe to the Farm Bell blog? Go here.