For close to 20 years, my grandmother's fruit cobbler recipe has rested on my kitchen shelf between the pages of an old cookbook that also belonged to Grandma. It's the simplest of recipes, easy to remember, easy to make, and easy to adapt to whatever fruit is available. I don't make it quite like Grandma did, but it's her handwritten recipe that I refer to if it's been a while since I made cobbler and I must refresh my memory about proportions, oven temperature, and so forth. I'm sentimental about such things–just a glimpse of that yellowed paper with her pencil strokes evokes such rich memories, and the memories matter as much or more to me than the cobbler itself.
Grandma's handwritten peach cobbler recipe calls for a can of cling peaches in heavy syrup, which is fine in the dead of winter but a poor substitute for the gloriously complex flavors of peach cobbler made with fresh, tree-ripened local peaches. Fresh grocery store peaches will work well enough. Those, however, by necessity are picked more with shipping and handling in mind than flavor. They're not fully ripe and soft when picked and thus don't develop quite so much flavor as peaches allowed to linger longer on the tree.
Luckily for me, not far from our farm is a peach orchard planted with hundreds of healthy trees of various varieties. I've been feeding my summer peach obsession there for more than month. I started with a box of small early peaches in late June, purchased on the first day the orchard store opened. Later, as they riped, I bought Redhavens and Cresthavens and even some white peaches. Now I've gone completely overboard buying bushels of main season freestones to can and dehydrate so I'll have sweet, locally grown peaches to least me until next summer's crop so I'll never have to do without Grandma's Peach Cobbler.
To make Grandma's Peach Cobbler, start with a single stick of butter. Place the butter in a 9 x 13 pan or one of similar proportions. I particularly like my French White CorningWare for cobbler and usually use my largest oval dish. Turn the oven to 350 degrees F, and put the baking pan in the oven so the butter can melt while the oven heats.
In the meantime, mix the dry ingredients together in a bowl. You'll need one cup flour, 1/2 to 1 cup sugar (adjusted for taste), 1 tablespoon baking powder, and 1 teaspoon cinnamon.
Grandma used plain grocery store sugar, whatever was on sale. She had a bit of a sweet tooth, too, and preferred to use that full cup of sugar whether the day's cobbler included fresh peaches or those canned peaches with the heavy syrup. I like mine less sweet and only use half a cup of sugar–white, brown, or my favorite organic cane sugar from the co-op. That one's less processed that the snow white table sugar I grew up with, and I love its warmer color and more complex flavor.
Once the dry ingredients have been well mixed, stir in one cup of milk.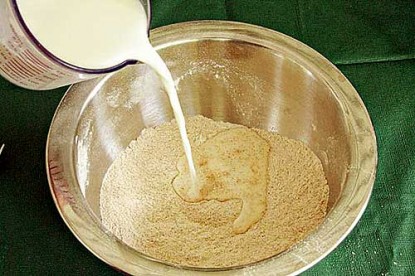 Carefully remove the baking dish of melted butter from the oven. Pour the batter into the baking dish with the butter. I get the best results when the butter is sizzling hot and just beginning to brown a tiny bit. The heat seems to set the crust and give it a nice, crisp edge that doesn't stick to the dish.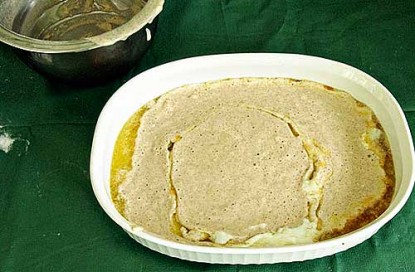 Add 6-8 cups of chopped peaches. Experiment a bit with the fruit quantities on this. Some people like a higher fruit proportion. Some like less. After several batches, you'll know which way works best for you.
I used Redhavens in this batch, and I just washed them well but left the skins on because I like the flavor that the skins add to the cobbler. (My grandmother would have been appalled. In her kitchen, peaches always were peeled. )
Spread the chopped peaches on top of the batter.
If you dawdle, the batter will begin to cook in that hot butter and start bubbling up around the peaches before you finish arranging them. It's an interesting effect and one that can change the final product just a bit if you dawdle too long. Normally, the fruit all sinks down under the batter, which forms a crust on top. If there's too much bubbling in the batter before you get the dish back into the oven, the fruit won't all sink. The cobbler will still be yummy, but it'll look different, and the center crust will be softer. Usually this happens when I forget to cut up the peaches ahead of time or when I think I'm so fast and smart that I can mix the batter and get all the fruit cut before the butter melts. Maybe you're that fast, but my oven usually wins that race.
Bake about 30 minutes, until the batter has risen to the top and browned slightly.
Note that the peaches didn't sink so well in this batch, thanks to all that bubbling that occurred while I was dawdling . . . err, slicing and dicing.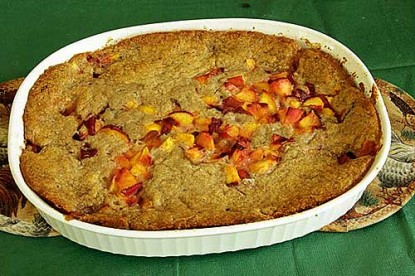 Serve warm with whipped cream. Or warm with ice cream. Or cold, with or without ice cream. Heck, just steal a bite straight from the pan every time you walk through the kitchen. You'll be glad you did.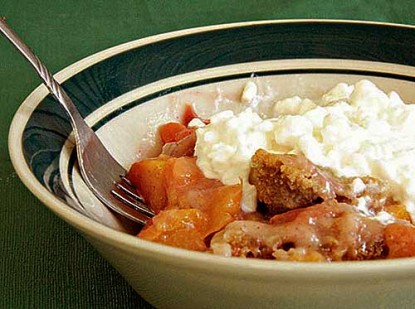 How to make Grandma's Peach Cobbler:
1 stick butter
1 cup flour
1/2 to 1 cup sugar
1 tablespoon baking powder
1 teaspoon cinnamon
1 cup milk
6-8 cups cut peaches
Set oven temperature at 350 degrees F. Place butter in 9 x 13-inch baking dish, and place in oven to melt while oven heats. Mix together dry ingredients. Stir in milk. Pour batter over melted butter. Spread fruit over the batter. Bake 30 minutes or until the crust has risen and browned nicely. Serve with ice cream, whipped cream, or plain.
Find this recipe on Farm Bell Recipes for the handy print page and save it to your recipe box:
Grandma's Peach Cobbler
You can also find LauraP at The Land of Moo.

Interested in contributing a guest post to the Farm Bell blog? Read information here for Farm Bell blog submissions.

Want to subscribe to the Farm Bell blog? Go here.