This slogan is mostly associated with the 1928 presidential campaign of Herbert Hoover claiming that all would be prosperous under a Hoover administration. The ubiquitous chicken has a place in the history of all regional cultures in the U.S. I haven't found any cuisine, except vegetarian, that doesn't rely heavily on chicken. Its versatility, accessibility and reasonable cost make it indispensable as a protein source. I read recently about the growing new "trend" of people raising chickens in their backyards. A growing new trend? The "trend" may be growing but there's nothing new about it. I come from a long line of "raising chickens in your yard" kind of people.
Let me introduce you to my Great Aunt Mary Phillips who raised chickens, lots of chickens, in her backyard as long as she was physically able. She lived in the same little town as my grandparents. Her husband, Great Uncle Preston Phillips, went about the town to people he knew and asked if he could put up slop buckets to collect food scraps to feed his chickens. One of those buckets resided in the pecan tree just off the back porch of my grandparents' house in the Cotton Mill Village. While my grandparents were frugal and didn't believe in wasting food, small amounts of leftovers were sacrificed up for the chickens. Actually, it wasn't a huge sacrifice because Granny would go over to Aunt Mary's often to get chicken and eggs. As I grew older and tall enough to reach the slop bucket hanging in the tree, it became my job to take the food scraps from the kitchen to the slop bucket. As you can imagine, food spoils rather quickly in the heat of the deep south. The acrid smell of the bucket's contents was a very distant second to the smell of the chicken yard itself. But, if you wanted chickens, that's how you got them. The picture below is grainy and somewhat out of focus but it is an actual picture of Aunt Mary in the background chasing one of her chickens. Her parents, my great grandparents, are in the foreground.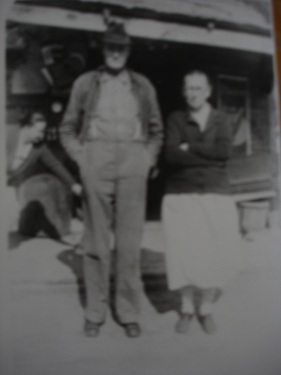 The fate of the chicken is unknown. She may have been chasing the chicken just because it got out of the pen and she wanted to put it back. She may have been chasing the chicken because it was dinner time….for her, not the chicken. This whole process probably seems distasteful to some, for we have gotten far away from the self-sufficiency of our ancestors. Raising chickens and gardening wasn't a hobby. It was survival. Before there were grocery store chains, you would have to take a trip into town to shop. That required you to have money, transportation and time. "Going to town" wasn't a quick 10 minute trip for people in rural areas. It could sometimes take the whole day. Rolling stores became popular in the rural south as a way of providing a means of trade to rural residents.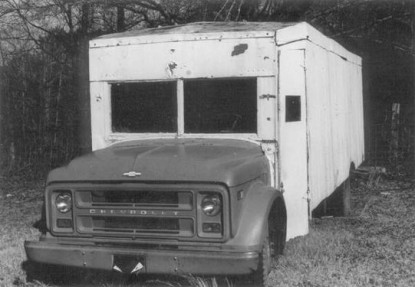 The rolling stores were stocked with pantry staples such as flour, coffee and sugar as well as hardware items such as hammers and nails for which you could pay cash or barter with goods in exchange for fresh produce or chickens. Some of the rolling stores built cages just to hold the chickens.
Roasted chicken is one of my favorite dishes with the wings being my preferred pieces. Considering the popularity of Buffalo chicken wings, I'm not alone. Depending on your geographic location, you either eat "wings" or "wangs". Southern diction, oftentimes, recreates vowel sounds such as turning a short "i" sound, as in picture, to a long "a" sound, as in make. Wings become wangs, things become thangs and think becomes thank. While I try to be conscious of my diction and pronounce words as close to correct as my native tongue will allow, I embrace southern diction. I've heard it all my life and hope I continue to hear it until I take a dirt nap.
The origin of the popular Buffalo chicken wings is far north of the Mason-Dixon line. The recipe has been credited to a Buffalo, NY mother looking for an economical way to feed her son and his hungry friends. That's one smart mama! But chicken itself has always been a staple in Southern homes.
Perhaps you've heard of the ever popular fried chicken. With the wangs being my favorite part of my roasted chicken, I decided to roast three pounds of chicken wangs using the same technique that I use to roast a whole chicken. I will be able to get my fill without roasting twenty chickens.
If you want traditional wing sauce, melt 1/2 cup butter and add 1/4 to 1/2 cup Tabasco sauce to get the degree of heat you like. Pour the sauce over the chicken as soon as the chicken is completely cooked. I prefer to eat mine plain just like I do when I take a whole roasted chicken out of the oven, stand there and eat the wangs before the bird is carved. I think I may fix myself a plate and sit down to enjoy these wangs. This was a good decision on my part.
How to make Oven Roasted Chicken Wings:
Start with a big tomato ware bowl.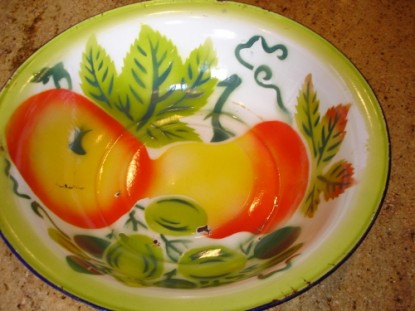 Okay, so it doesn't have to be tomato ware bowl. But isn't mine beautiful? I use it to mix up my dressing at Thanksgiving. My great-grandmother, in the picture above, had a bowl like this. Hers was smaller and she would keep fruit in it.
Wash and pat dry the chicken, coat with olive oil and sprinkle with 4:1:1 seasoning and dried Italian herbs. 4:1:1 seasoning is my blend of kosher salt, ground pepper and garlic powder in a 4:1:1 ratio.


Prepare two baking sheets by covering in aluminum foil and spraying with cooking spray. Place chicken on baking sheets being careful not to crowd. You want to roast, not steam, the chicken.


Place in a preheated 400 degree oven and roast for 40 to 50 minutes. Turn chicken over after first side is browned. Continue the cooking until the second side is browned and the skin is nice and crispy. This skin gets so crispy and delicious. The combination of using olive oil plus raising the cooking temp to 400 degrees makes the skin cook to a degree of crispness that is unbelievable but the flesh remains juicy. Continuing on with the tomato ware theme, here's the finished product.
The apron was given to me by my sister, Kathy Anderson, who gave me the job of Cookie for her son's chuck wagon-themed wedding rehearsal dinner. My job was to bake biscuits and cobblers, ring the dinner bell, and keep food on the chuck wagon.


Get the handy print page and save this to your recipe box here:
Oven Roasted Chicken Wings.
Syrup and Biscuits blogs at Syrup and Biscuits.

Do you have a recipe post or kitchen-related story to share on the Farm Bell blog?
Go here to read information and submit a post to the Farm Bell blog.

Want to subscribe to the Farm Bell blog? Go here.