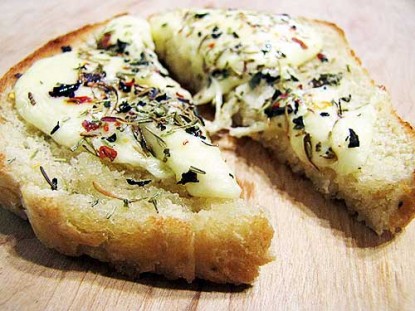 Difficulty: Intermediate
Servings: 1 pound
Prep Time:
under 30 minutes, not counting draining
Cook Time:
about 10 minutes
Ingredients
1 1/2 level teaspoons citric acid dissolved in 1/2 cup cool water
1 gallon whole milk
1/4 teaspoon lipase powder (Italase) dissolved in 1/4 cup cool water (for 20 minutes prior to using)*
1/4 teaspoon liquid rennet diluted in 1/4 cup cool, unchlorinated water
1 teaspoon cheese salt
1-2 tablespoons heavy cream
Directions
Note: This cheese is best made with farm-fresh or local milk, either slow-pasteurized (at 145 degrees for 30 minutes) or used raw. If you're using pasteurized store-bought milk, add 1/2 teaspoon calcium chloride directly to the milk when you put it in the pot. Do NOT use ultra-pasteurized milk.
*Do not add lipase if using milk from the store. It will make your curds too soft.
Step 1. If using store milk, add the 1/2 teaspoon calcium chloride directly to the milk when you put it in the pot. While stirring the milk constantly, add the citric acid solution.
Step 2. Begin heating the milk, continuing to stir, until it reaches 90 degrees.
Step 3. Stir in the diluted lipase. Mix thoroughly then stir in the diluted rennet with an up-and-down motion. If using raw milk, continue heating (stop stirring) the milk to 100-105. Turn off the heat and let sit for 5 minutes before transferring to a microwaveable bowl.
If using store-bought milk, after adding the rennet at 90, turn off the heat and let sit for 5 minutes. Check the curd. If it's too soft, let it sit a few more minutes. Cut the curd into 1-inch squares with a knife that reaches the bottom of the pot. Place the pot back on stove and heat to 105 while stirring slowly. Take it off the heat and continue stirring slowly for 2-5 minutes before transferring to a microwaveable bowl.
Step 4. After pouring off as much whey as you can, separate one-third of the curds and place in a colander. Crumble the one-third portion into small pieces (about thumbnail size). Drain off any whey that comes out, move it to a small bowl, and add 1-2 tablespoons heavy cream plus 1 teaspoon salt. Mix well to form a creamy cottage cheese-like mixture.
Step 5. Heat the two-thirds portion in the microwave for 1 minute, kneading, stretching, and draining off whey as usual. If it's stretching, you're ready to move on to the next step. If it's not stretching yet, heat it again for 30 seconds. (If using raw milk, you probably don't need to heat it again. It will be stretching already.) Shape/stretch it into a bowl or purse-shape. Place it in a bowl or on a plate.
Step 6. Spoon the curd/cream mixture onto the stretched cheese bowl you've made. Shape and seal the cheese around the filling, tightly pressing it all together. The cheese will want to seal back onto itself. If you have trouble sealing, reheat the cheese (the whole thing) for another 30 seconds to make it more pliable then seal.
I wrap mine in cheesecloth after it's shaped and sealed to help it hold its shape. It may still need to drain for another few minutes. I place the cheesecloth-wrapped cheese on a rack over a plate to drain.
Eat immediately, or chill until firm. The cheese shell will be firm with a soft, rich center.
Categories: Dairy, Homemade Cheese, Soft Cheeses
Submitted by: suzanne-mcminn on July 15, 2011