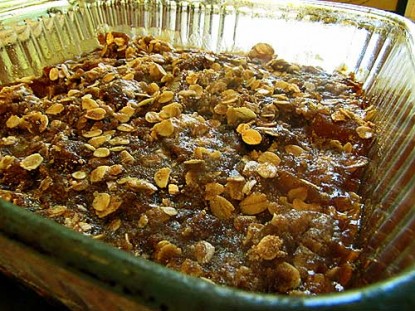 Difficulty: Easy
Servings: 6
Prep Time:
2 minutes
Cook Time:
30 minutes
Ingredients
Fruit Crisp Topping Mix:
1/2 cup old-fashioned oats
1/2 cup packed brown sugar
1/4 cup all-purpose flour
1/2 teaspoon cinnamon
1/4 cup butter or margarine
Directions
To make the crisp, you'll need:
1 can store-bought or 1 pint home-canned fruit/pie filling
1 baggie Fruit Crisp Topping Mix
To prepare the topping mix, combine the first four ingredients. Cut in butter or margarine with a pastry cutter.
Store in a small sealed, labeled baggie or container in the refrigerator or freezer. If you don't want to store this in the refrigerator or freezer, don't cut the butter/margarine into the mix until you are preparing the dish. (Might add an extra minute or two to your preparation, of course!)
To prepare the dessert, open the can or jar of fruit/pie filling. Pour into a greased 8 x 8 baking dish or round casserole dish or pie pan. Sprinkle topping mixture over the top.
Bake in a 350-degree oven for 30 minutes. Serve warm with ice cream or whipped cream.
Note: If you have a larger amount of company, simply double the pie filling and topping mix. Bake in a 13 x 9 pan.
As an alternative to making up the mixes individually, you could make a bulk mix.
Bulk Fruit Crisp Topping Mix:
2 cups old-fashioned oats
2 cups packed brown sugar
1 cup all-purpose flour
2 teaspoons cinnamon
1 cup butter or margarine
Per use, measure out 1 1/4 cups topping mix and prepare as directed above. Again, if you prefer to store it on the pantry shelf rather than the fridge or freezer, leave out the butter/margarine from the mix and cut it in just before you prepare the dish. This bulk mix makes four 8 x 8 fruit crisps. You can double or triple and so on, however much bulk mix you want to keep on hand.
Categories: Budget, Crisps, Desserts, Entertaining, Ingredients & Mixes
Submitted by: suzanne-mcminn on September 7, 2010