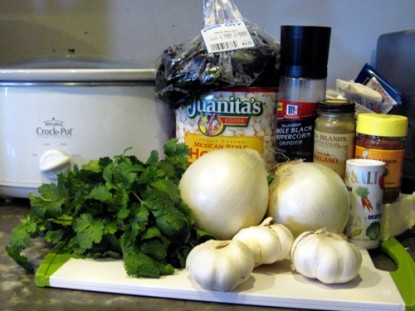 My husband (ManBeef) and brother-in-law (Mahngo) are both big Menudo fans, especially after a boys night out. According to them, Menudo is the perfect hangover food–I'll buy that, because I would have to be sick and a little drunk to willingly eat tripe.
Tripe–ICK.
But the menfolk love it and every Sunday morning or afternoon–-hungover or not-–they drag themselves out of bed, load up in the Jeep, and drive down to the local Filberto's for some authentic Menudo.
Double ICK.
Mahngo says Filberto's Menudo tastes just like his grandma's. Just look at how excited he is: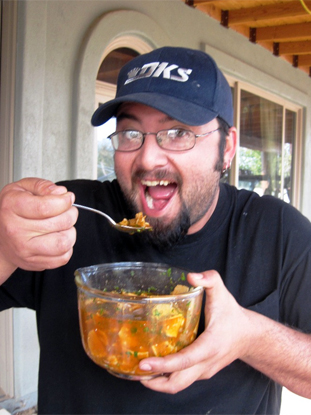 Long story short, Mahngo and ManBeef have been pestering me to make Menudo from scratch. Mahngo said, "It's really easy to make! I bet yours would be awesome. Just make sure you cook the tripe outside because the boiling innards really stink."
*shudder*
Triple ICK.
This story almost ended right there.
Menudo doesn't necessarily have to have tripe or other (arguably) grody things in it—most recipes are perfectly delicious with just hominy as a base. Still, I felt the Menudo would be lacking the "just like Grandma's" taste if I left out the meat all together. I knew it would take a few tries to get it right-ish—especially if I want the kiddos to eat some. Both Chatterbox and BamBam tend to shy away from the five-alarm fire dishes.
I pulled a bunch of Menudo recipes, started cooking, and thus began what I will refer to as The Menudo Project.
Please keep all your Ricky Martin jokes to yourself.
Here is the first recipe I tried:

1 calf's foot (I used about 1 to 1 1/2 pounds of pig's feet)
2 pounds honeycomb tripe (I left this out)
1 large onion
3 cloves garlic, peeled
6 peppercorns
2 teaspoons salt, or to taste
4 quarts of water
3 large chiles anchos
A large chile poblano, peeled or 2 canned, peeled green chiles
1/2 big can of canned hominy drained
Salt as necessary
1 teaspoon oregano
Chop veggies and combine all ingredients in pot. Cook until done…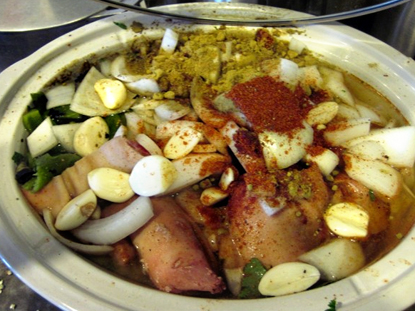 The first batch was OK. I don't suggest you bother with a crockpot–Menudo isn't one of those soups that benefits from the slow cooking. Menudo is better reheated the next day, as are most dishes which use red peppers and garlic. The crock pot took too long to get rolling and wasted counter space. If the boys had been hungover, this dish would have been a failure. There is no waiting for hangover food–-only car keys and a greasy spoon.
I did use pig's feet listed in the recipe for the "ham-y undertone". I also used green chilis instead of red to reduce the heat. Overall, the rating on the soup was a resounding *meh*. I had a problem with the pig's feet–specifically, the ankle bones. My attention span is short and ankle bones look quite a bit like the hominy. Picking through the kids' soup to ensure boneless-ness was annoying.
Don't get me wrong, it was good–-and the menfolk ate it—but it wasn't Menudo.


The second batch was much better! I used mild red pepper powder and tossed in a couple of leftover pork ribs. I even bought a big bag of the super-hot red chili powder so the boys could spice up their individual bowls.
This is the next recipe I "used". But in case you haven't noticed, I am not so great at following directions.
2 pounds tripe (I left this out)
3 pounds nixtamal (hominy) frozen, not canned (I used the big can. They were only $3)
3 pounds pig's feet cut into quarters (I substituted with leftover pork ribs)
1 large onion diced
1 bunch green onion cut up in 1/4? pieces
1 bunch of cilantro chopped
2 tablespoons Oregano
1 tablespoon black pepper
1 tablespoon red pepper flakes
1 head of garlic
2 tablespoons salt
water
Wash tripe thoroughly, remove excess fat and cut into bite sized pieces. Wash the hominy and pigs' feet well. Combine all ingredients in a large pot with enough water to cover. Bring to a boil and simmer slowly until corn opens and is cooked (not overcooked). Skim off grease. The more grease off, the better.
Serve with fresh cilantro, chopped green onion, lime slices or lemon slices, and toasted bolillos.
My men-folk prefer yellow corn tortillas torn up and squished into the soup.
Mmm… This batch was very good. Still room for improvement, but I suspect Menudo will be one of those recipes I need to perfect over time.
Since I won't do the tripe (ick!), I suspect my base recipe from now on will be this:
2 Gallons of Water
Pork meat of some type
1 head of garlic, finely chopped
1 large white onion, finely chopped
1 1/2 tablespoons salt
1 tablespoon ground black pepper
1 1/2 tablespoons dried oregano
2 tablespoons ground red pepper
5 de arbol chile peppers (this usually means the little dried hot chilies)
6 japones chile peppers, seeds removed
6 cups canned white or yellow hominy, drained (one big can)
Sides:
1/2 white onion, chopped
1/4 cup chopped fresh cilantro
2 limes/lemons, juiced
Fresh yellow corn tortillas


Does anyone have some tips or suggestions to make my Menudo magnificent?
My Ultimate Goal: To have Mahngo take a bite, forget where he is, and say, "Thank You, Grandma."



Larissa blogs at The Henway.

Do you have a recipe post or kitchen-related story to share on the Farm Bell blog?
Read information here for Farm Bell blog submissions.

Want to subscribe to the Farm Bell blog? Go here.