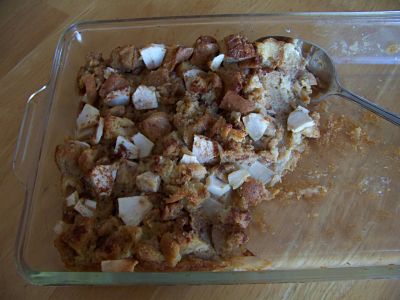 Difficulty: Easy
Servings: Serves 5-6 people or more, depending on pan size.
Prep Time:
About 10 min.
Cook Time:
30 - 35 min.; OR 9-12 min. in microwave.
Ingredients
4-6 c cubed stale bread, any kind, crusts and all
1-2 apples, peeled, cored & very thinly sliced
2 c milk
2 Tbsp butter
2 eggs, beaten
1/2 c white sugar + 1 Tbsp molasses OR 1/2 c brown sugar, omit molasses
1/4 tsp cinnamon or nutmeg
Directions
Mix bread & apples in a bowl and then pour into 8×8" or 9×13" greased pan. OK to use a little more bread if you have it, it will sink down after it's cooked.
Put milk into microwave-safe bowl. Add butter. Microwave 4 min on HI till butter is melted.
Meanwhile, beat eggs, and stir in sugar & molasses.
Very slowly pour a small amount of the hot milk into the egg mixture, stirring all the while. Then slowly pour the egg mixture back into the milk, stirring all the while.
Pour over bread in pan and mix just a little, to be sure all the bread is moistened. Sprinkle on cinnamon.
Bake 350 deg. for 30-35 min. till a knife stuck in the center comes out clean OR microwave 9-12 min. on Med-Hi (#7).
Serve warm with whipped cream or ice cream.
Categories: Budget, Old-Fashioned, Puddings & Custards
Submitted by: brookdale on March 3, 2011