When preparing for the 2012 Chickens in the Road Retreat dehydrating classes, Kellyb and I emailed the attendees in advance to see what they were looking for, in particular, from the class. One of the most common answers – jerky! I was not surprised, since jerky was the number one reason that many people purchased dehydrators for years – and was the first dehydrated food that I prepared in my Ronco dehydrator over 25 years ago. In my case, it was deer jerky.
Well, we couldn't dehydrate wild game in a public venue, even if we could obtain some, and beef has taken a tremendous hike in price this summer due to drought and grain shortages. What to do?
Why pork, of course!
Whole pork loin has remained stable for years at around $2.00 per pound. At least half of each loin is very lean – perfect for jerky. I had the butcher cut the best end of the loin into 1 1/2″ chops which I froze, then partially thawed for classes. Partially frozen meat is definitely the easiest to slice up for jerky. Attendees sliced the pork about 1/8″ thick after all fat was trimmed away, then soaked the meat briefly in a marinade that they mixed up. The marinated meat strips were stretched out nice and flat on the mesh screens of an Excalibur dehydrator and the machine set to 155 degrees. Most of the jerky was ready to eat in 5 hours – and it was DELICIOUS! It was left in the dehydrator overnight to ensure that it was all ready to eat or store. Here's the recipe if you'd like to try what we accomplished – it's a keeper!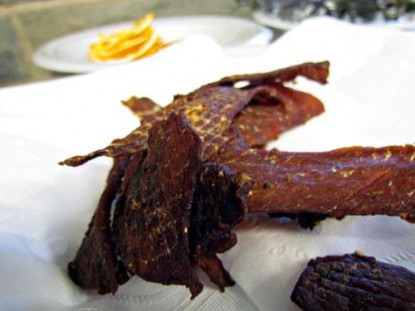 Pork Jerky
1/3 lb. brown sugar
3 cups soy sauce
½ cup liquid smoke
½ tsp. lemon pepper
1 Tbsp. Worcestershire sauce
1/8 tsp. ground cayenne pepper
Lean pork loin, sliced 1/8" thick x 1" to 2" wide, all fat removed
Mix ingredients in bowl and let stand while you are cutting the meat. Slice pork loin. (Partially frozen is easiest to thinly slice.) Place meat into the bowl of marinade and let stand about 10 minutes after stirring well to cover all pieces equally. Drain briefly in sieve or colander. Place on mesh trays and dehydrate at 155 to 160 degrees. Drying time is about 5 to 8 hours with a motorized-fan dehydrator. Jerky is finished dehydrating when it nearly snaps when bent.
Get the handy printable and save it to your recipe box: Pork Jerky
Do you have a recipe post or kitchen-related story to share on the Farm Bell blog?

See

Farm Bell Blog Submissions

for information, the latest blog contributor giveaway, and to submit a post.

Want to subscribe to the Farm Bell blog? Go here.