B-A-N-A-N-A-S!!
– Gwen Stephani, it's a song — No?
Are you sure?
[dancing] B-A-N-A-N-A-S?
No?
Moving on then — check out my cake!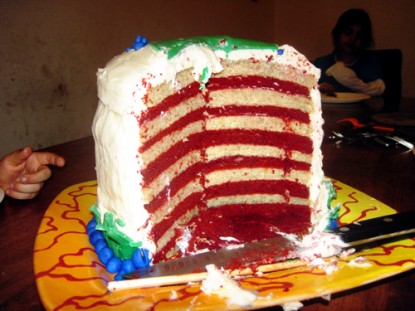 I had never played with fondant before, so this was a lot of fun. All though, my husband did say they looked like blue goat turds. He has a point.
Quick back story: I wanted to make banana cake for my youngest child's birthday, but the yucky green bananas were 2 pounds for $1. Then I walked around the banana display and found this:
A 50+ pound box of ripe bananas for $3! WOOHOO!
Now, what to do with 50 pounds of bananas?
Go on CiTR, and ask for help, of course!
I froze a bunch (pun intended), made chocolate dipped banana pops, and 5 or 6 batches of banana cake. The banana cake uses less sugar than my banana bread recipe, and is much fluffier. During past banana gluts, I have frozen unfrosted banana cupcakes and served them for snacks & breakfast.
They are blue/green because my kids like weird-colored stuff.
These really don't need frosting, unless you LOVE frosting, at which point you should go bananas — B-A-N-A-N-A-S!
MONKEY ALERT!!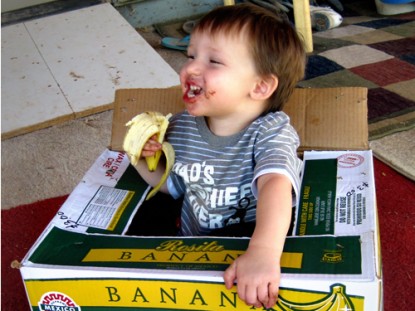 How to make Banana Cake:
5 large over-ripe bananas, mashed
2 large eggs
1 1/2 cups sugar (easily reduced to 1 cup or less)
1/4 teaspoon salt
1/4 to 1/2 teaspoon cinnamon
4+ Tablespoons HEAVY sour cream. (I like to use Mexican Crema, which is runnier than sour cream, but tastes more like cream cheese)
1 Tablespoon baking soda, dissolved in the sour cream
1 dash baking powder, dissolved in the sour cream
2 to 2 1/2 cups flour, depending on size of bananas
Mix all wet ingredients together then add flour. Mix until well blended. Bake at 350 until inserted toothpick comes out clean. Cupcakes ~22 minutes, 9 inch round ~25-30 minutes.
Super-thin layer cake:
Idea originally from Cakewrecks, as referenced from Bakingdom
Line round with parchment paper. Pour 2/3 cup cake batter into pans. Bake about 12 minutes for banana cake, about 10 minutes for red velvet cake. Since you can bake multiple pans at once, this goes pretty quickly. Just don't try to use multiple shelves. The cakes on the bottom will not come out.
NOTES: I wanted thicker layers, so I used about 1 cup of batter per layer. This increased the banana cake baking time to 14-16 minutes. I stacked them while still hot, which seemed to "seal" the layers together, without any frosting. At layer 10, I added chopsticks for support.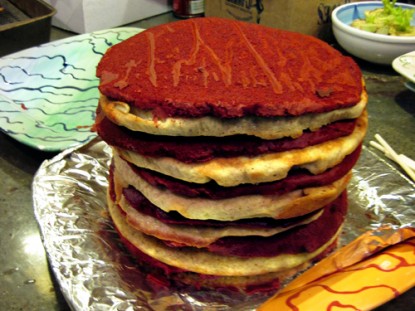 I stuck it in the fridge for an hour or so to "solidify the stack". Then I used a serrated knife to round it out a bit. Here it is "in progress".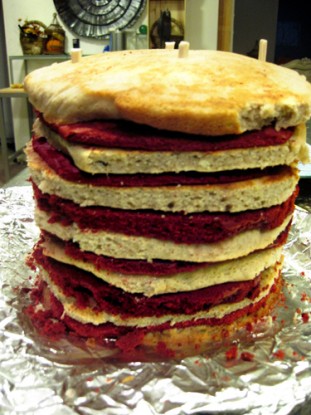 I fed the cuttings to Grandma, with a dollop of frosting for dipping.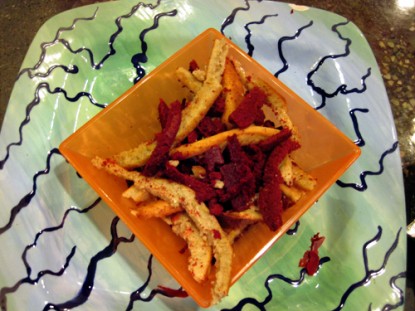 The frosting was your basic cream-cheese frosting, with some banana flavoring, vanilla extract, and 1/4 cup shortening thrown in.
Get the handy print page and save this to your recipe box here:
Banana Cake.

Interested in contributing a guest post to the Farm Bell blog? Read information here for Farm Bell blog submissions.

Want to subscribe to the Farm Bell blog? Go here.