My husband's grandmother was one of the sweetest ladies ever. When you were around Granny, you knew you were loved. She didn't have to tell you, you just knew. It was evident in everything she did. Her faith and her family were the most important things in life, and her gentle, fun loving spirit captivated everyone around her.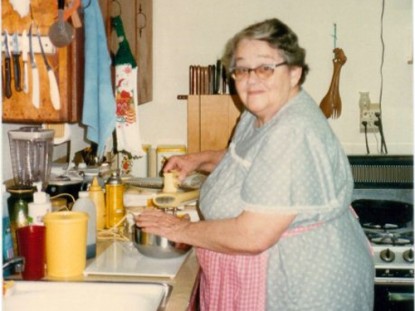 Although she was a wonderful woman, Granny ruined my husband. Ruined, I tell you!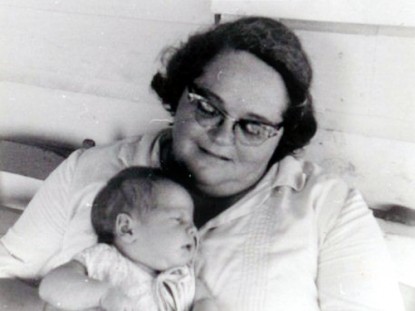 I laughingly commented one time as to how spoiled she had made him, and as she grinned up at my 6'4" husband she replied "I don't care how big that boy gets, he's always going to be Granny's baby". Then, I think she snuck him another piece of pie. But, that was just Granny. Her heart was always overflowing with love for her family…every last one of them.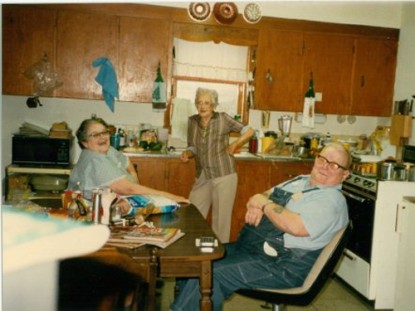 As it got near to Thanksgiving the first year that Tow Man and I were married, all he could talk about were "Granny Pies". He waxed eloquently and ranted and raved about how wonderful Granny Pies were. When I asked him what a Granny Pie was, he replied "It's the best pumpkin pie in the world!", then closed his eyes and got a dreamy expression on his face. He then went on to explain that Granny's Pie recipe made 5 pies, and she had to make 2 or 3 batches for each family gathering to keep up with the demand. I was stoked! I love pumpkin pie, and since I knew how great of a cook Granny was, I couldn't wait to try her special pies!
When we got to Granny and Grandpa's for Thanksgiving that year the food was everywhere, as were the relatives. I scanned the tables, but all I could see was a pecan pie and if I remember right, a couple of fruit pies. Where were the magical pies that I'd heard so much about??? I headed towards Granny to ask her about the pies, but about that time someone announced that it was time to eat, so we all bowed our heads in prayer, then chaos erupted and I forgot about the pies in my quest to survive the food rush at my first Ashwood Family Thanksgiving.
About the time I was finishing my plate, I noticed a rush of men to the side room. Each one of them came back carrying their very own pie. Yes, that's right…they each had a pie, and by the looks on their faces, they probably would have stabbed you with a fork if you got between them and their pie. Granny was calmly bringing out industrial sized tubs of Cool Whip as the guys marched through the kitchen. Being that we had been married less than a year and Tow Man was still on his best behavior, he stopped by me and gallantly offered me a piece of Granny Pie. Everyone gasped, as I guess it was not common behavior for any of the men to share even a crumb of their pie. Showing off a little, Tow Man cut me a small piece (read "sliver") of his pie, and with a theatrical flourish he gently placed it on my plate. I was a little confused as I looked at the pie. All the pumpkin pies I'd ever had were a darker color, and this was pale with a custardy appearance. Since I was the newbie, all eyes were on me as I tried my first bite. I gingerly placed the bite in my mouth, expecting the heavens to open and the angels to begin singing the Hallelujah Chorus.
Instead, I almost gagged.
Knowing how passionate everyone was about Granny Pies, I forced the bite down and oohed and aahed with the rest of the family. Evidently my reaction was appropriate, because the spotlight turned from me to the pies, for which I was extremely grateful. By the way, now might be the right time to tell you that I detest custard pies and this definitely was a custard pie. Somehow, I managed to choke down the rest of my piece, then turned to find Granny laughing at me. She said "You like regular pumpkin pies, don't you?", to which I sheepishly nodded yes. She laughed and told me that it was ok, that I didn't have to like her pies. She had begun making these pies because she did not like the taste of a regular pumpkin pie. She thought the taste was too strong, and she wasn't big on all the cinnamon and spices in a regular pumpkin pie. Her pie was basically an egg custard pie with a little bit of pumpkin thrown in for good measure. She gave me a big hug, we laughed, then I went and got a piece of Pecan Pie since it was just sitting there on the table calling my name. After all, who was I to ignore the call of the Pecan Pie???
Granny's gone now, but I make the pies at least twice every year in her memory. You see, I found that not everyone loves a "real" pumpkin pie like I do. This year Tow Man helped me make the pies for Thanksgiving, which was really sweet. My neighbors keep checking to see when I'm making "The Pies", and my youngest daughter, Audra, came over and hunted until she found the last one that her daddy had stashed in the freezer. I used to take these pies to church dinners and everyone asked for the recipe, so if the little church ladies are asking for the recipe, you know that they have to be good…even though they're not the right pie for me. These pies freeze well, by the way. Granny would make batches of them ahead of time, baking first, then sitting them on the counter to thaw the day of whatever event she needed them for.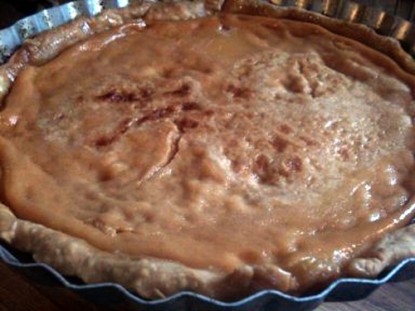 You know, Granny had the right idea with this pie. I smile every time I make them, because they are such an extension of who she was as a person. Granny shared a lot of love, and since this recipe makes five pies, it's essential that you share them with your friends and family. That, my friends, was the heart of who she was, and it's a legacy that I am blessed to be able to honor. It's not about the pies, although Tow Man still swears that they're the best pies ever, but it's about the ability to share a little of yourself and a whole lot of love with those around you.
It's the best gift Granny ever gave.
Get the handy print page and save this to your recipe box here:
Granny Pies.

Tow Lady blogs at The Tow Lady.


Do you have a Christmas recipe post or kitchen-related story to share on the Farm Bell blog?
Read information here for Farm Bell blog submissions.

Want to subscribe to the Farm Bell blog? Go here.