I have a confession. I have never used a candy thermometer. My dad gave me one, but I don't use it for candy. I will go out of my way to find recipes that don't use one. This recipe is perfect!
Mom found this recipe in a newspaper article 55 years ago and has been making it since. I can't even imagine how many pounds of fudge she's made. She only makes it at Christmastime now, but she used to make it any old time — whenever there was a rich chocolate craving. You can use whatever type of chips you'd like, for whatever flavor of fudge you'd like. My favorite is layering chocolate and peanut butter. Or they have the milk chocolate/peanut butter chips now!
I have another confession. This is the first time I've made this fudge recipe. Mom makes it for all of us at Christmas, so I leave her to her recipe, I don't overstep. BUT I did this time! We had a craft fair this past Saturday and I was helping her out. She made chocolate, butterscotch, and peanut butter. I thought these snowmen would be so cute made with the premier white chips! They would have been — had I not skipped an important step in the recipe — grease the pan you're going to mold them in! But let's pretend I did.
How to make Mom's Fudge::
1 cup (2 sticks) Parkay margarine (she has never varied from this, but I'm sure you could!)
1 can evaporated milk
5 cups sugar
3 cups (1 1/2 – 12 ounce – bags) chips — chocolate, peanut butter, butterscotch, vanilla
1 (10 1/2 ounce) bag mini marshmallows
Combine margarine, milk, and sugar together.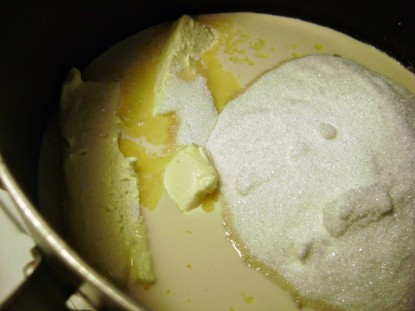 Over medium heat, heat together until a rolling (cannot stir down) boil. Boil for 12 minutes.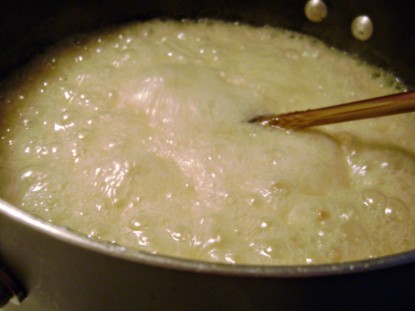 While it's boiling, get your pans ready. And don't forget to GREASE them! Butter any pans you will be using, even those non-stick ones. If you're using silicone molds, you can skip this step. But please don't skip this step for anything metal or glass. I would love to say "Lesson Learned!", but I've done it before with my own fudge recipe, with the same results, so I will probably do it again 😉
Mix in chips and marshmallows and stir like crazy until they're all melted.
Pour into pans.
This recipe makes 5 pounds of fudge. It makes a bunch! I thought it would fill my snowman pans.
Then I grabbed out my silicone mini-cake pan. Then my mini-muffin pan.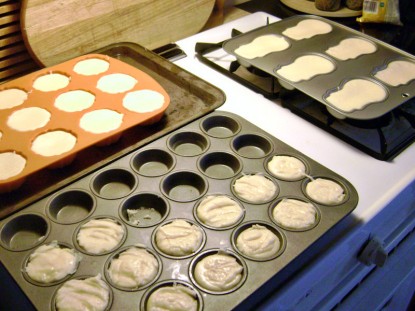 Let sit until cooled and hardened, maybe an hour. Tip out and wrap. Or if you're like me, put the pans in the freezer to try to get them out. When that doesn't work, put a couple inches of hot water in the sink and set the pan in. And cry when the details don't come out.
Accept that only the mini-cakes are going to the craft fair and the family will be getting the snowmen for Christmas.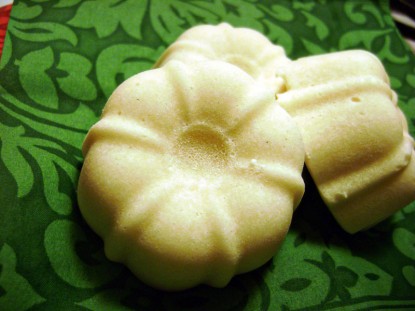 Tie a rope candy around the neck for a scarf. The rope licorice would work here great, but I couldn't find them. I found some sort of "wheels" that I pulled apart for a rope.
Put in a cello bag with a tag to gift!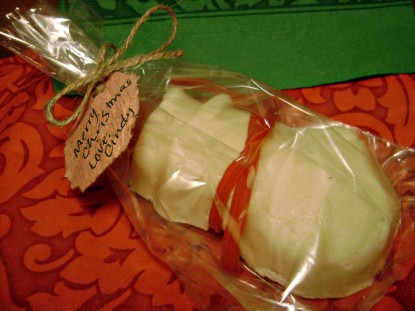 Get the handy print page and save this to your recipe box here:
Mom's Fudge.

Cindy blogs at Chippewa Creek ~ Our Life Simplified.


Do you have a Christmas recipe post or kitchen-related story to share on the Farm Bell blog?
Read information here for Farm Bell blog submissions.

Want to subscribe to the Farm Bell blog? Go here.
Happy Candy Making!
Update 2:00 p.m. I remelted the fudge. Thanks mamma leigh for the suggestion! It came out of the molds with just a little persuasion with a thin knife at the end (it moved around, but it seemed like there was a suction). The taste is the same, the consistency is the same. You can see the details. But I think from the reheating there are air pockets, or I should have banged them on the counter. I didn't do that the first time, though. I did a couple in the mini-muffin pan so I would have something for the taste test. Those turned out perfect. The family will still love them! 🙂