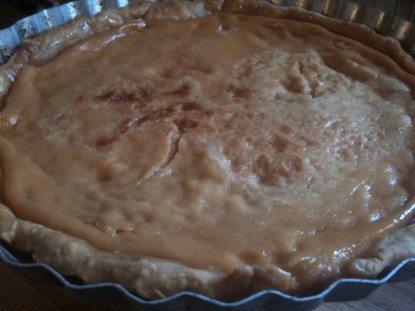 Difficulty: Easy
Servings: 30
Prep Time:
15 minutes not counting crust time
Cook Time:
30-45 minutes
Ingredients
1 can pumpkin
5 cans evaporated milk
5 eggs
2 1/2 cups sugar
3 Tbsp flour
1 tsp cinnamon
5 unbaked pie shells, or 4 if you're using a larger deep dish shell
Directions
Mix pumpkin, eggs, sugar, flour, and cinnamon well in very large bowl. Add evaporated milk one can at a time, mixing well after each addition.
The mixture is very thin, so I usually position my empty pie shells in my oven, then use a large measuring cup with a pour spout to fill them. This alleviates my shaky hands spilling the filling in the oven. My other go-to method is to bat my eyes and ask my husband to carry them to the oven, that way if they get spilled, it's his fault.
Bake in a preheated 375 degree oven for 30-45 minutes. Pie will be done when center is set.
These pies freeze well…I usually flash freeze them, then place a square of waxed paper over the top of each pie and stack them.
Categories: Old-Fashioned, Pies
Submitted by: cnbash on December 8, 2010