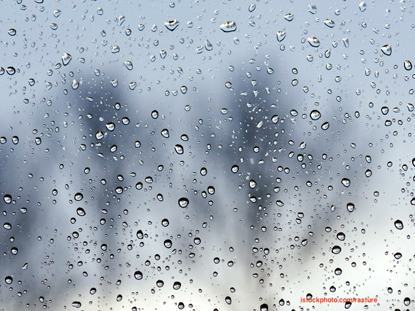 Recognize Cousin Sook's words? Then it's likely you are familiar with author Truman Capote's A Christmas Memory. You probably can recall some of the odd traditions described in the story: Cousin Sook's refusal to rise from bed on the 13th of any month, Sook's and Buddy's holiday gift exchange of homemade kites, and of course, the annual baking of the fruitcakes.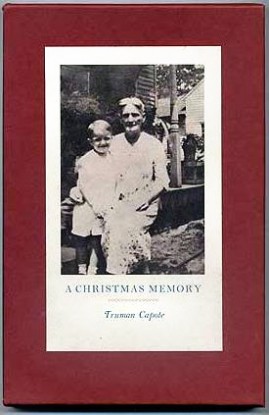 However, if this memory has escaped you, please allow me to make an introduction. It is Capote's autobiographical story of a young boy, sent to live with distant relatives, and his friend—his elderly cousin Sook Falk. The fruitcakes help the developmentally challenged woman and her misfit young cousin reach out from their poverty in the rural South to more than two dozen people from Mr. Haha Jones— their moon-shining neighbor—to President Franklin D. Roosevelt. Together, Buddy and Sook gather pecans left behind from the harvest, buy illegally made whiskey for soaking the cakes, get slightly tipsy on the whiskey leftovers, cut their own tree, and decorate it with homemade ornaments. The two disparate friends form a binary system, the outside world barely intrudes on their lives. The story will wrap around you like a well-worn quilt.
There are many ways to enjoy this holiday jewel. You might check with your local NPR station to find out when they will air A Christmas Memory read by the author himself. The reading has a palpable poignancy. Barring that, you might listen to a significantly abridged version of the reading here. A Christmas Memory begins about minute 21:20.
Or, you might choose to watch the 1966 television production, starring Geraldine Page and narrated by Capote. It is in six installments on You Tube. Of course, you could begin your own family tradition by reading the story aloud. You'll find the full text here.
Why not serve your own fruitcake along with this memory? You might try 1974 Fruitcake (Revised) or Pauline's White Fruitcake. If an entire fruitcake is beyond your reach this year, why not try Holiday Fruit Gems, a tasty bite of fruitcake in a cookie.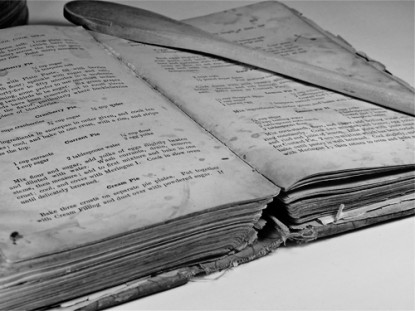 How to make Holiday Fruit Gems:

1/2 cup packed brown sugar
1/4 cup butter or margarine
2 eggs, well beaten
1 1/2 cups sifted flour
1 1/2 teaspoon soda
1 teaspoon cinnamon
1/4 teaspoon each: nutmeg, cloves
1/2 cup orange liqueur, bourbon, or orange juice
1 1/2 pounds mixed medium chopped dried fruit*
1 pound pecan or walnut pieces
1 pound dried cherries or cranberries, halved or quartered
* Use a combination of two or three fruits you enjoy, such as apricots, prunes, light raisins, dates, mango, papaya, pineapple, cherries, or cranberries.
Cream sugar and butter until light and fluffy; add eggs. Sift flour with soda and spices. Add to creamed mixture alternately with liqueur. Mix batter with mixed fruits and nuts. Drop by teaspoonfuls onto greased, or parchment lines, cookie sheets. Back at 325 degrees F for 25 minutes or until browned. Cool on racks. Store in airtight containers. If desired, baste occasionally with liqueur, bourbon, or orange juice. Makes about 4 1/2 dozen.
Get the handy print page and save this to your recipe box here:
Holiday Fruit Gems.
Whichever way you come to this beautiful story, take a moment to savor it. Accept A Christmas Memory as a gift to be read, year after year, warming heart and soul on a dreary winter day. You'll find it goes well with a cup of tea and a bit of fruitcake.

Interested in contributing a guest post to the Farm Bell blog? Read information here for Farm Bell blog submissions.

Want to subscribe to the Farm Bell blog? Go here.