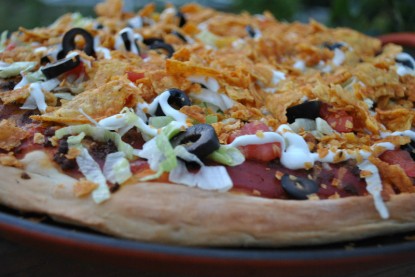 Difficulty: Easy
Servings: 2 pizzas
Prep Time:
20 minutes
Cook Time:
n/a
Ingredients
2 12-inch pizza crusts
1 small can of refried beans (or use leftovers, they freeze really well!)
1 small jar pizza sauce
2 cups (or more) taco seasoned meat (again, use leftovers)
1/2 cup onion, chopped
2 1/2 cups cheddar cheese, shredded
1/2 head iceburg lettuce, finely shredded
1 tomato, seeded and chopped
1 can olives, drained and sliced
1 packet (or 2 tablespoons) taco seasoning
sour cream
Doritos, nacho or taco flavor
hot sauce, optional
salsa, optional
guacamole, optional
sliced jalapenos, optional
Directions
Preheat oven to 450 degrees. Spread 1/2 the can of refried beans on one pizza crust. Top with 1/2 cup pizza sauce, followed by 1/2 the meat and 1/2 the cheese. Shake 1 tablespoon taco seasoning over the top and then add your desired amount of onions and bake until the crust is golden brown. Remove from oven and sprinkle 1/2 the shredded lettuce, tomato, and olives over the top. Put some sour cream in a plastic sandwich bag and snip off the corner. Drizzle the sour cream artistically over the top of the pizza. Crush Doritos and add them over the top of the sour cream. Add any additional toppings, slice, and serve. Repeat with all steps to make the second pizza.
Categories: Kid-Friendly, Main Dish, Pizza
Submitted by: charleycooke on December 10, 2012