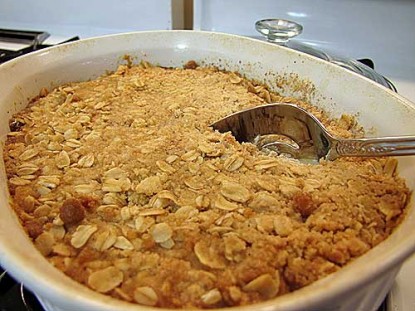 Difficulty: Easy
Servings: 6-8
Prep Time:
5 minutes
Cook Time:
30-45 minutes
Ingredients
1 1/4 cups all-purpose flour
1 cup brown sugar, packed
3/4 cup butter or margarine
1 1/4 cups oatmeal*
1 cup apple butter
Directions
*Either quick oats or old-fashioned work in this recipe.
In a medium-size bowl, mix flour and brown sugar. Cut in the butter or margarine so that the mixture resembles coarse crumbs. Stir in oats. Press half the mixture into a greased 8-inch pan (for bars) or 1 1/2 quart casserole dish (for a crisp). Spread apple butter over the top, all the way to the edges. Sprinkle the remaining oats mixture over the top.
Bake in a preheated 350-degree oven for 30-40 minutes for bars or about 50 minutes for a crisp–until lightly browned. (Watch it carefully.)
Categories: Cookies & Bars, Crisps, Desserts
Submitted by: suzanne-mcminn on December 4, 2012