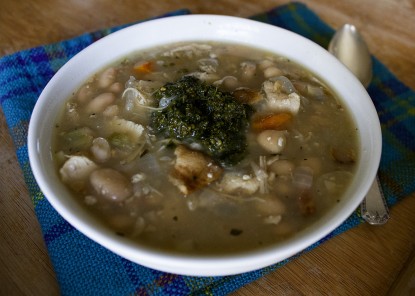 Difficulty: Easy
Servings: 8
Prep Time:
30 minutes
Cook Time:
1 hour (to meld flavors)
Ingredients
1/2 lb bacon, cooked until crisp, cooled and crumbled
2 T butter or bacon grease
1 onion, chopped
5 cloves garlic, minced
1/2 cup carrots, chopped
a handful of dried rat tail radishes or celery or both
2 cans great northern beans
2 chicken breasts, cooked and cubed (brown them in the bacon grease!)
2 cups chicken stock
2 cups water
1 tsp sugar
a couple of grinds of black pepper
pesto
Directions
Fry the bacon first, then set it aside to cool. Saute the onion, garlic and carrots in the butter or bacon grease until soft. Add the remaining ingredients, except the pesto. Heat through and simmer for an hour. Serve with a spoon full of pesto stirred in. Makes 8 servings.
Categories: Bean Soups, Beans, Beans, Grains & Rice, Gluten-Free, Main Dish, Soups & Stews
Submitted by: rurification on December 31, 2012