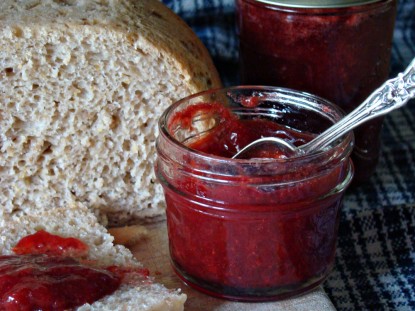 Difficulty: Easy
Servings: 5 jam-size jars
Prep Time:
30 minutes
Cook Time:
10 minutes BWB
Ingredients
1 lemon, zest and juice
4 cups sliced strawberries
3 T Dutch Jell All Natural Lite pectin
12 heads of lavender, tied in a bundle.
1 1/2 cups mild honey
Directions
Put the lemon juice, lemon zest, berries, lavender, and pectin in a pot. (You can stir with the lavender bundle.) Bring to hard rolling boil. Boil for 1 minute. Remove the lavender bundle. Add honey. Bring to rolling boil and boil for 1 minute. Ladle into jars. BWB 10 minutes.
Categories: Boiling Water Bath, BWB Fruits, Canning, Preserving
Submitted by: rurification on August 8, 2012