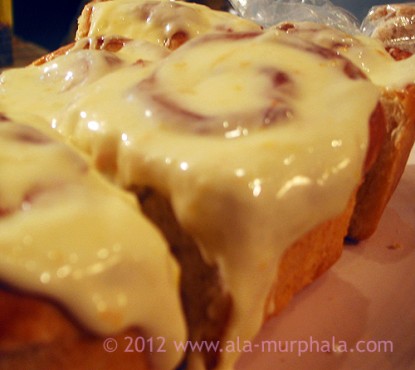 Difficulty: Intermediate
Servings: 12
Prep Time:
1.5-2 hours
Cook Time:
30-35 minutes
Ingredients
1 1/2 cups warm milk or water
2 tsps granulated yeast
1/3 cup sugar
2 large eggs
1/3 cup vegetable oil
1/2 teaspoon salt
1/2 zest of 1 large navel orange (about 1 tablespoon)
5-5 1/2 cups flour (your mileage may vary; you want a soft elastic dough, and not sticky!)
Flour for kneading and rolling
1 cup light brown sugar
2 tablespoons melted butter
Icing ingredients:
2 1/2 cups confectioners' sugar
4 oz cream cheese
1/3 cup fresh orange juice
1/2 zest of 1 large navel orange (about 1 tablespoon
Directions
Preheat oven to 325F. Spray a 9 x 13 cake pan with cooking spray or line with parchment. Set aside.
Dough:
Place warm liquid and yeast in a large mixing bowl. Add sugar and stir to dissolve. Add 2 eggs and oil, and beat well. Add salt and half of the orange zest plus 1 cup of the flour. Mix well.
Add the rest of the flour by cupfuls, stirring well after each addition either with a big spoon or with the paddle attachment of your mixer. When the dough becomes too stiff to stir comfortably, switch to a dough hook and continue to add flour and knead until the dough is soft and only slightly sticky. Alternatively, turn out still-sticky dough onto a well-floured surface and knead dough until most of the remaining flour is incorporated and dough is smooth and elastic. Cover and let rest for 10 minutes. Uncover and check dough. It should be very pliable and elastic. Place in greased bowl and turn, cover and let rise for 1.5-2 hours in a warm place, or until doubled. (This dough seemed to have a longer rising time than normal.)
When the dough has doubled, punch down dough and turn out onto floured surface. Stretch the dough or roll it out to create a rectangle, with the long side facing you. Spread the rectangle with melted butter and sprinkle with brown sugar. Roll the dough from the long side into a long tube. Pinch to seal the edges and ends. Slice into 12 sections and place about a quarter inch apart in a greased 9X13? pan. Cover and let rise in a warm place until double.
When double, put on the middle rack of the preheated oven and bake for 30-35 minutes or until the tops are golden brown and sound hollow when tapped. Remove and place pan on a wire rack to cool. While they are cooling, mix icing.
Place the cream cheese in the bowl of your mixer and start to beat while slowly streaming in orange juice. Add remaining zest, reserving a little for garnish if desired. When combined, begin adding confectioners' sugar 1/4 cup at a time, beating well. Continue adding sugar until your icing is of a medium consistency (thick and holds soft peaks). When rolls are cool enough, spread with icing and allow to cool completely before diving in.
Categories: Breads, Breakfast, Pastries, Rolls, Yeast Breads
Submitted by: murphala on August 6, 2012