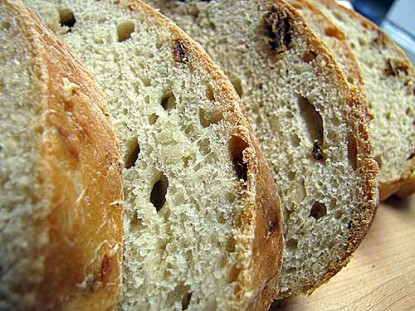 Difficulty: Easy
Servings: 1 loaf
Prep Time:
2-12 hours--mostly sponge and rising time
Cook Time:
25 minutes
Ingredients
To start the sponge–
1 1/2 cups warm water
1 teaspoon yeast
1/2 teaspoon sugar
1 cup all-purpose flour
1 teaspoon garlic salt
To finish the bread–
2 tablespoons dried chopped chipotle peppers
1 tablespoon dried flaked onion
1/2 cup vital wheat gluten
approx. 2 cups flour
Directions
Combine water, yeast, and sugar in a medium-sized bowl. Let sit 5 minutes. Stir in the 1 cup of flour and the garlic salt. Cover and let sit for 2 to 12 hours.
When you're ready to finish the bread, add the chipotle peppers (seeds and all!) and onion then the vital wheat gluten. The gluten is for an extra airy texture with "holes" in the bread. Gradually mix in the remaining flour. Add flour a little at a time as needed, stirring until dough becomes too stiff to continue stirring easily. Add a little more flour and begin kneading. The amount of flour is approximate–your mileage may vary! Continue adding flour and kneading until the dough is smooth and elastic. You want to go with a wetter dough here to keep the light texture. Let dough rise in a greased, covered bowl until doubled. (Usually, about an hour.) Uncover bowl; sprinkle in a little more flour and knead again before shaping into a loaf.
Place loaf on a greased baking sheet. Cover and let rise about 20 minutes. Preheat oven to 375-degrees. Spray the inside of the oven and the top of the loaf with water. Bake loaf for approximately 25 minutes or until hot, browned, and crusty.
Categories: Breads, Yeast Breads
Submitted by: suzanne-mcminn on August 8, 2012