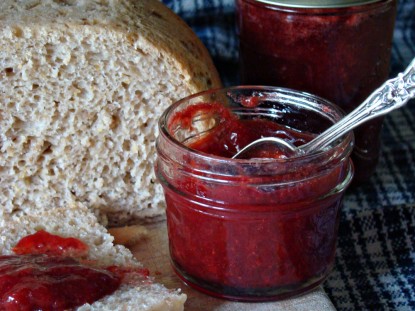 It's kind of a ridiculously long name. But really, which part would you leave out? Simple jams are great, but sometimes the complicated ones grab you and scream, 'Try me out!'
One thing I don't like in jam is too much sugar. I like it to be more fruit flavor than sweet flavor. It's jam, not candy. I usually use 1/2 as much sugar as fruit in my recipes and I'm working hard on ways to use sweeteners other than sugar.
Like maple syrup. (Peach Maple Cardamom Jam, Peach Maple Jam, Pear Maple Jam)
And honey. I've been thinking a lot about honey in jam. Because we have bees. And eventually it will rain again and we might actually have honey.
I was worried that the flavor of the honey would overwhelm the flavor of the fruit. Turns out I had nothing to worry about. Honey is a beautiful complement to fruit.
Also, I've been wanting to try a bit of lavender in jam and I like the way it goes with strawberries, so I put some in this jam.
Strawberry Lemon Lavender Honey Jam is beautiful. And really really good! The honey deepened the color of the berries into a deep dark red.
The jam isn't too sweet, especially with all that lemon. If you want it to be sweeter, you can add more honey, or sugar if you don't want the honey to take over.
This jam also mellows with time. What flavor might seem overwhelming when cooking will tone down after the jam sits for a few days.
Strawberry Lemon Lavender Honey Jam
1 lemon, zest and juice
4 cups sliced strawberries
3 T Dutch Jell All Natural Lite pectin
12 heads of lavender, tied in a bundle.
1 1/2 cups mild honey
Put the lemon juice, lemon zest, berries, lavender, and pectin in a pot. (You can stir with the lavender bundle.) Bring to hard rolling boil. Boil for 1 minute. Remove the lavender bundle. Add honey. Bring to rolling boil and boil for 1 minute. Ladle into jars. BWB 10 minutes. Makes five 8-ounce jars.
Notes: If you don't want the odd lavender flower falling off into the jam, you can strip the flowers off and put them in a tea ball to steep in the jam as it cooks. I found it easier to just use the bundle to stir with as much as I could, then I switched to a spoon when I needed a stronger stirrer.
About the pectin: I've been using bulk pectin this year from my local Amish store. You can probably use 1 pkg / 3 T Ball pectin as well or Sure-Jell. Keep in mind that strawberries often take more pectin than other fruit.
Get the handy printable and save this to your recipe box:
Strawberry Lemon Lavender Honey Jam