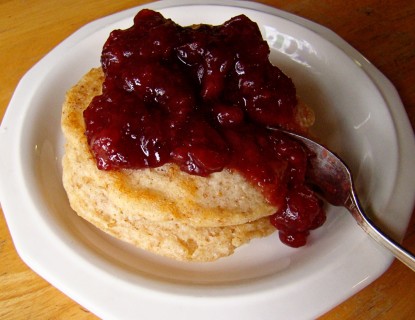 Difficulty: Easy
Servings: 3 1/2 - 4 pints
Prep Time:
10 minutes
Cook Time:
30 minutes
Ingredients
5 cups cranberries [or a bit more, if your package is bigger]
1 1/2 cups water
3 ripe bananas, mashed
3 cups sugar
1/8 tsp cinnamon
Directions
Put cranberries and water in a pan, bring to boil and when the berries start popping, turn the heat down a bit and mash them some. Add the bananas, sugar and cinnamon. Bring to a boil. Simmer for 10 minutes. Process for canning: 10 minutes for pints and jelly jars.
Categories: Appetizers & Snacks, BWB Jams, Jellies, Butters & Preserves, Canning, Fat-Free, Gift Basket Goodies, Gluten-Free, Low-Fat, Low-Sodium, Non-Dairy, Other Breakfast, Other Condiments, Presentation, Preserving, Special Occasions, Vegan, Vegetarian
Submitted by: rurification on December 10, 2011