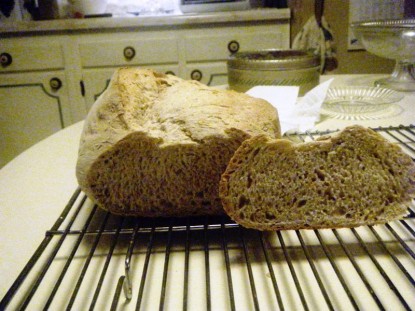 Difficulty: Intermediate
Servings: 2 (1-1/2 pound) loaves
Prep Time:
2-1/2 hours with about 25 minutes hands on
Cook Time:
40-45 minutes
Ingredients
4-1/2 cups of white flour measured by spooning
1-1/2 cups whole wheat flour
2-1/3 cups of water
1/2 Tablespoon salt
1 Tablespoon yeast
1/4 cup melted fat
Directions
Put all of the flour in a large bowl. Hollow out the middle and add the water, salt, yeast, and whisk it until it is pancake batter thick. Add the fat. Mix with a strong spoon until all of the flour is moistened. Cover the dough with plastic wrap for 20 minutes.
Leave the dough in the bowl and knead the dough for a few minutes and cover it again and let it rest for about ten minutes.
Knead again for a few minutes and lightly dust with flour, scrape the sides of the bowl for all of the stray dough and form the dough into a ball. Grease the dough ball and the bowl. Turn the oven on until it just clicks and let it heat for a couple of minutes and shut it off. Cover the dough in the bowl and put it in the oven to proof. It will come along rather quickly.
When it threatens to leave the bowl dump it out on a lightly floured table and shape into two loaves. They may be either round or elongated. Let them rise covered until well doubled and then with a very sharp knife slash the top of each loaf so that the oven spring will expand the loaf there.
Bake at 425 for 40-45 minutes.
Categories: Breads, Yeast Breads
Submitted by: ross on February 10, 2011