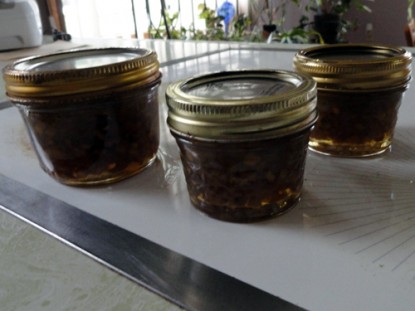 especially if you burn it and have to throw the pan away
. If you like, when you drain the ginger from the water, reserve the extra water to make
jelly
!
Difficulty: Intermediate
Servings: as many as you'd like
Cook Time:
BWB 20 min
Ingredients
ginger
water
honey
Directions
Wash the ginger in cool water and skin. Peeling it with a potato peeler will remove too much of the meat, so skin it with a small knife.
Cut into very small even 1/8th inch pieces.
Boil the ginger in twice as much water as you have ginger for about 30 minutes, until the ginger is fork tender.
Drain ginger.
Weigh the ginger and add that amount of honey.
Cook to 225 degrees on a candy thermometer.
Can the honeyed ginger in 1/4 pint jars in a boiling water bath for 20 minutes.
Categories: Boiling Water Bath, BWB Other, Cold Remedies, Other Condiments
Submitted by: lisabetholson on July 9, 2011