For the past couple of years I have helped mentor my best friend's son with his baking and canning projects for our local 4-H Youth Fair. He is a wonderful young man of 16 years and is interested in not only learning the science behind the baking and canning, he wants to carry on these traditions.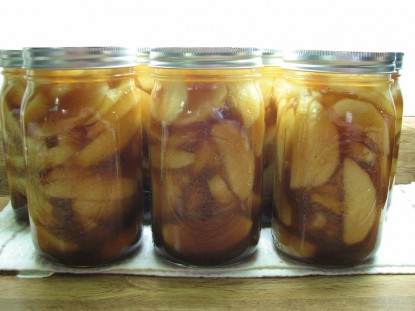 We have had such fun with the canning of jams and jellies along with all the pickles, beets, okra, cucumbers, tomatoes, green beans, and such. Great, good, and bad things have happened with much head scratching over the bad after following a recipe to the best of our ability only to have the whole batch go into the garbage…we may never know why. Oh, and the pickled beets are of his own recipe and took a first place ribbon this year.
While the filling for his winning apple pie was not on the approved "canning" list, it was made from KentuckyFarmGirl's recipe for Apple Pie Filling that we "put by" this last summer.
Without further ado, allow me to present Taylor's accomplishment this year. With a first place in Fruit Pie, first place in Cobbler, fourth place in Yeast Rolls, and fifth place with the Pecan Pie, Reserve Grand Champion was awarded to him.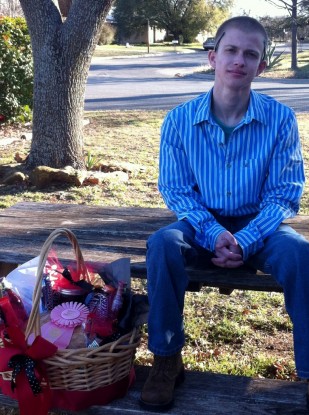 This picture is of Taylor and his gift basket that he presented to the highest bidder at the Premium Sale where his accomplishment netted him over $500.
Way to go Taylor! And needless to say his mom and Miss HomeEc's Daughter are very proud of this young man!


Do you have a recipe post or kitchen-related story to share on the Farm Bell blog?
See Farm Bell Blog Submissions for information, the latest blog contributor giveaway, and to submit a post.

Want to subscribe to the Farm Bell blog? Go here.