We love rhubarb, especially rhubarb pie!
This is my Rhubarb Pie Filling recipe:
4 cups chopped rhubarb
3 cups sugar
1/2 cup flour
Combine well in pot and simmer on low, stirring well. Cook on low until slightly thick and bubbly, stirring more or less continually.
Pour into prepared pie crust, put the top on and bake immediately at 350F for 45-50 minutes, until the crust is well done, top and bottom.
You don't need to cook the filling while baking the pie, since you did most of that before you put the pie in the oven. If you are adding the hot filling to a pie crust, you have to bake it right away. The hot filling will melt the fat in the crust and it won't be the same if you wait. If you are not baking it right away, store the filling separately in another container until you are ready to bake the pie.
To freeze the filling: let it cool completely then spoon into a freezer bag. Get out all of the air and flatten it. Flat bags stack in the freezer and take up less space.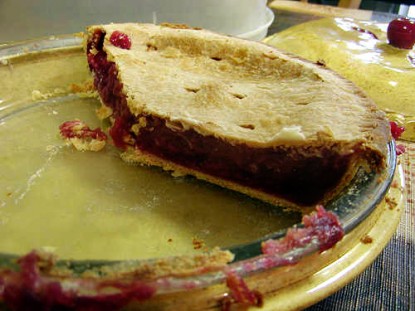 My rhubarb grows in the lasagna garden with my salad things, herbs and berry collection. Most of that garden is perennial so it makes sense to grow it there, since it is perennial. I like to till up the vegetable gardens in the fall and spring. I am adding to my rhubarb this year, since we have discovered rhubarb pies. I originally planted it for wine making, which I still plan to do. I will only make one gallon this year, just to see if we like it and because I don't have a lot of rhubarb right now.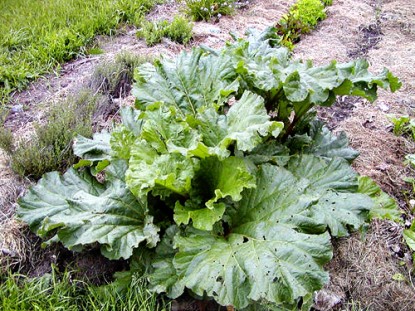 The rest will go into the freezer or be canned for winter pie filling storage. I like to make the pie fillings ahead of time and freeze them. I also make pastry ahead and freeze it, so pie making is simple and quick.
Rhubarb should be picked when the entire stalk is red. The green parts are not that good to eat since they are not ripe yet. If you pick it when it is green at the top and add that to the rhubarb you use, it will be extremely tart. The secret to good rhubarb is to use it only when it is ripe enough. Your rhubarb is going to be very tart, that's its nature. You will just need to add more sugar to it. The bottom of the stalk should be a dark wine colour.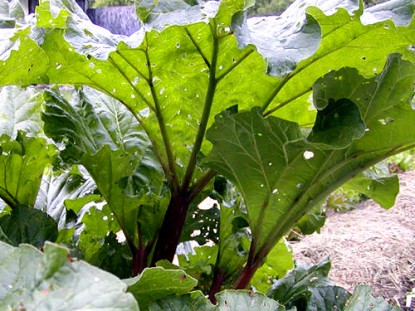 The peel of the rhubarb cooks to a very tender state. When the rhubarb is cooked you won't be able to tell the peel from the rest of it, so it doesn't need to be peeled first. Its not like celery, where the peel stays tough and stringy. You will waste a lot of good fruit if you peel it first. Do cut any brown or black spots off, however.
These have a bit of green at the top that will need to be cut off.
Chop it up into little pieces before you cook it and it will be more tender and cook faster.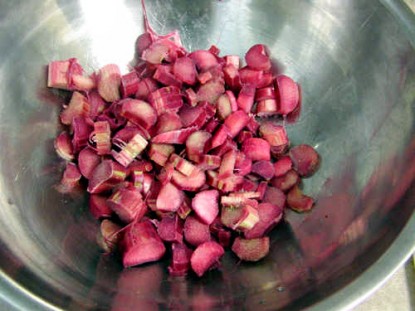 Just an important note: Rhubarb leaves are very poisonous. You can make insecticide out of them that will kill anything.
Get the handy print page and save this to your recipe box here:
Rhubarb Pie.

Sheryl blogs at Providence Acres.

Interested in contributing a guest post to the Farm Bell blog? Read information here for Farm Bell blog submissions.

Want to subscribe to the Farm Bell blog? Go here.