I am still in a scone-y mood, which I find surprising since I have never enjoyed the scones you can buy in coffee shops. Similar to hockey pucks or compressed hard tack, to me, they've always held the appeal of a urinal cake.
But! Since I have started cooking, I've learned I like all sorts of things I have never enjoyed when store bought. So, I started experimenting with scones.
And. I. Love. Them!
We'll do sweet scones first. Then we'll move on to savory. Mmmm…
How to make Candied Ginger, Apricot & Cranberry Scones:
2 cups flour
1/3 cup sugar
1/2 tsp baking powder
1/2 tsp salt
1/2 cup cold butter, cut into 1/4 inch squares
1/4 cup dried apricots, chopped
1/4 cup dried candied ginger, chopped
1/2 cup fresh cranberries
1 cup heavy cream, 2 Tbsp reserved (water or milk works just fine)
Mix the first 4 ingredients in a bowl, pour into the food processor.
Using the pastry blade, combine the chilled butter with dry ingredients until the dough clumps into pea-sized balls.
Add 3/4 cup plus 2 tablespoons heavy cream.
Blend until well combined.
Add in ginger, apricots, and cranberries, mix well.
Remove dough from food processor, and form dough into a circle on a Silpat or lightly greased pan.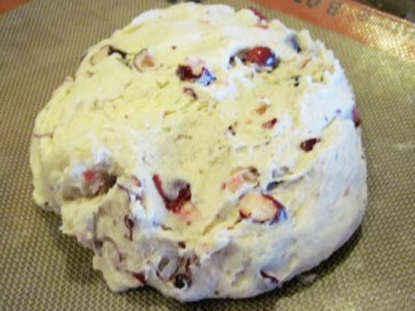 Using a large knife, cut the dough into 8 wedges.
Arrange wedges on Silpat, about 2 inches apart.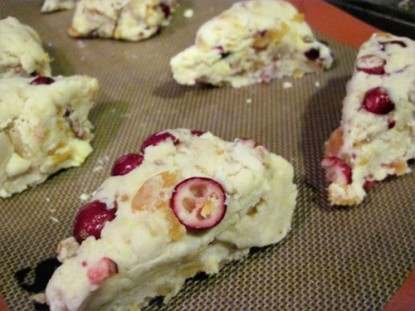 Brush the tops of the wedges with the remaining heavy cream.
Bake at 450 degrees for 13-15 minutes.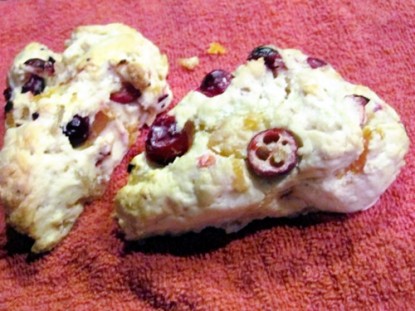 Enjoy!


Get the handy print page and save this to your recipe box here:
Candied Ginger, Apricot & Cranberry Scones.

Larissa blogs at The Henway.

Do you have a recipe post or kitchen-related story to share on the Farm Bell blog?
Read information here for Farm Bell blog submissions.

Want to subscribe to the Farm Bell blog? Go here.