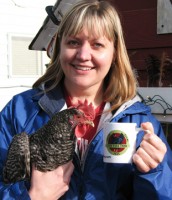 Say hello to Kerrie!
Q. What are your favorite things to cook?
I'm not sure I really have a favorite (although I COULD eat Mexican food every day of the week…). I love cooking with fresh vegetables and herbs and spices. And meat. I'm a big fan of meat! And cheese.
Q. How/when did you learn to cook?
Being the oldest of 8 kids, I learned on my family. I was cooking entire meals by the time I was 12. However, nobody taught me how to cook…so in those early years, when my younger siblings found out it was my night to cook, they'd beg mom NOT let me cook. (Now, however, they call me for cooking advice, so I guess I earned their respect somewhere along the line!)
Q. Tell us about some of your cooking triumphs.
I'm actually terrible at following recipes (true story!), although I LOVE cookbooks. A couple years ago one of my friends bought me the Julia Child Mastering the Art of French Cooking cookbook for Christmas (my friends often buy me cookbooks in hopes of having me cook them something) and I was determined I'd actually FOLLOW one of the recipes.
Another friend, a world traveler who often finds herself in France, asked me to cook Boeuf Bourguignon, one of her favorite dishes she orders multiple times every time she's over there.
So, the party was on! I invited a houseful of friends and made Boeuf Bourguignon. I followed the recipe exactly. (I heard a friend telling another: "Kerrie was bent over the cookbook, actually following the directions! I don't think I've ever seen her do that before!")
Of course it turned out great, which will happen especially with a cookbook like that to walk you through the whole process. But the best part (aside from eating it!) was when my France traveling friend said she's never tasted Bouef Bourguignon as good as mine in France.
Q. What was your most memorable cooking tragedy?
I had many as a kid learning to cook on my own. One that I remember really well was making peanut butter cookies for our 4-H group and using whole wheat flour. They were basically just a pile of crumbles. I didn't know there was a difference in types of flour. But, I learned quick!
Q. Describe your kitchen. Do you love it, hate it, and why?
It's WAY too small. I long to have a house that is built around my perfect kitchen….some day….
Q. Is your pantry organized and are your kitchen drawers tidy? We need to know.
They're pretty tidy. At least I have a system, anyway. I don't know if anyone else could understand it, but I usually know right where everything is.
Q. Do you have any favorite family cooking traditions?
In the fall (before life gets crazy with the holidays) family and friends gather for a potluck. The menu items vary, but ONE thing remains consistent–CORN CHOWDER (the torch was handed down to me about 10 years ago and I'm the official corn chowder maker at this event).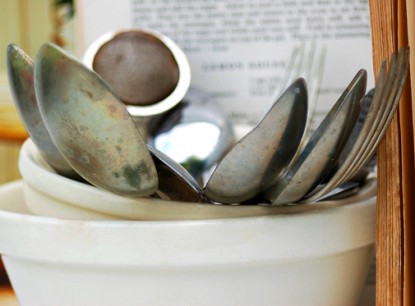 Q. What is the one gadget (or ten) you couldn't do without in your kitchen?
My Vitamix! I use it almost daily. Also, my dutch oven, my baking stone, my Kitchen Aid and my lemon/lime squeezer. Sharp knives are also handy.
Q. If you had to take one food to a deserted island, what would it be?
Milk. I could make butter and cheese that I could add to the local herbs, fruits and veggies and I'd get by.
Q. What is your go-to comfort food?
Definitely thick, chunky homemade soup in the winter…or chicken enchiladas…or homemade very cheesy mac and cheese…come to think of it, what ISN'T comfort food? ha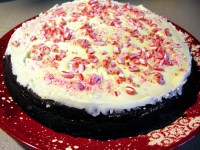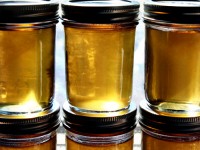 Find all of Kerrie's recipes and blog postshere.



You can find Kerrie at City Girl Farming.

Do you have a recipe post or kitchen-related story to share on the Farm Bell blog?
Read information here for Farm Bell blog submissions.

Want to subscribe to the Farm Bell blog? Go here.