"I wear my sunglasses at night…" plays in the background as I work at cutting up and cleaning tomatoes. My kids tease me at first, but they pretty soon get used to my "old" music. Time goes much faster. Soon Josh Groban and Allison Krauss also have played. At the end while waiting for the canner time to finish up, Roy Orbison's Greatest Hits rolls on.
Music and my kitchen seem to be best friends. I must hear music, it seems, when I have a long kitchen time ahead of me. To me, cooking and music is just as butter to bread. I don't know why I find myself cooking with music on much of the time, but it makes the work I do so much more enjoyable. Don't get me wrong; I love music. But perhaps it is like the fancy restaurants that have harps or classical music in the background. It seems to be an integral union. There are times that I reflect on those in my history that also canned and put up lots of food. Those are times when Yo-Yo Ma and Allison Krause's "Simple Gifts" brings me to tears. The spirit of our history has brought me the privilege to get to have enough food to eat and enough food to can.
Okay, I do admit, dancing and singing do seem to also go along with the kitchen as well. Eagerly teasing me at those times are my children, but they know not to tease much, or they will have a knife in their hand or dough to knead! Then they have to see me up close and hear me in 3D while they are my "forced labor." These are times when the kids claim "child abuse" for having to listen to me.
I've been making salsa lately and that required music that I knew very well. I wonder sometimes if music isn't partially the spice in my cooking. Why? Well, I love to add a touch of this seasoning or a bit of that item when I do cooking. I don't know why, but I struggle to follow most recipes. One could say that I like to improvise and jazz it up a bit. More garlic? Less salt? Salsa in with the refrieds? Vanilla added to the pancakes?
Music brings a lot of joy to me and it is dear company in the kitchen on days when I am tired and dragging yet have much work ahead of me (like the bushel of peppers that are staring at me right now). Everything from high school to now is fair game to bring up my spirits into the energy needed to take care of my gardening and kitchen work. "Blueberry Hill, "Come Go with Me," and "Looks Like We Made it" all fit into my time in the kitchen. This morning I'm packing food up for a hike — and I'm super tired. I need some music….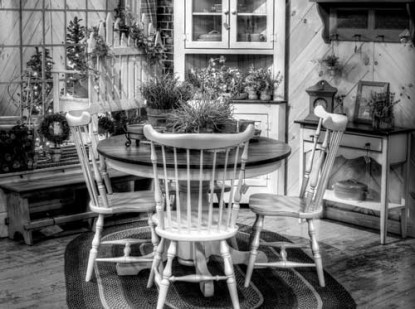 Note: Of course, I don't do my music too loud. My too many years of training in Audiology and having been a specialist in noise management…well, I'd feel mighty guilty knowing I'd be damaging permanently my hearing or my kids.

You can also find Moopsee at Yahoo's Canning2.

Interested in contributing a guest post to the Farm Bell blog? Read information here for Farm Bell blog submissions.

Want to subscribe to the Farm Bell blog? Go here.