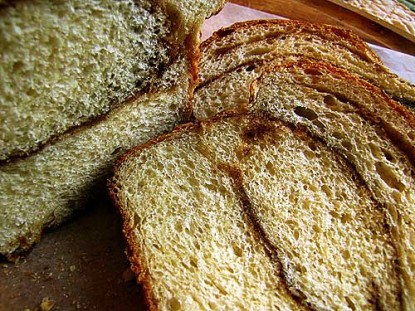 Difficulty: Easy
Servings: varies
Prep Time:
1 1/2 hours (mostly rising time)
Cook Time:
25 minutes
Ingredients
1 1/2 cups warm water or milk
1 teaspoon yeast
1/4 teaspoon salt
1/4 cup sugar
1 egg (optional)
1/3 cup oil (optional)
3 1/2 cups all-purpose flour*
Directions
*If you use egg and oil, you will need a little more flour.
In a large bowl, combine water (or milk), yeast, sugar, and salt. Let sit five minutes. Add egg and oil, if using. Stir in the first cup and a half of flour with a heavy spoon. Add the next cup of flour a little at a time as needed, stirring until dough becomes too stiff to continue stirring easily. Add a little more flour and begin kneading. The amount of flour is approximate–-your mileage may vary! Continue adding flour and kneading until the dough is smooth and elastic. Let dough rise in a greased, covered bowl until doubled. (Usually, about an hour.) Uncover bowl; sprinkle in a little more flour and knead again. Roll dough out on a floured surface into an approx. 12-inch by 7-inch rectangle.
For filling:
2 tablespoons butter, melted
1/4 cup brown sugar
2 teaspoons pumpkin pie spice
Brush dough lightly with melted butter. Combine brown sugar and spices; sprinkle evenly over dough. Roll up, pinching seams at bottom and ends. Place seam-side down in loaf pan. Let rise until tall and beautiful. Bake at 350-degrees for 25 minutes. Cool on a wire rack. Drizzle baked bread with powdered sugar icing.
Powdered Sugar Icing:
Combine 1/2 cup sifted powdered sugar, 1/4 teaspoon vanilla, maple, or rum extract, and enough milk (one to two teaspoons) for drizzling consistency.
Note: If you don't have pumpkin pie spice, you can substitute 1 teaspoon cinnamon, 1/2 teaspoon ground ginger, 1/2 teaspoon ground allspice, and 1/4 teaspoon ground nutmeg.
Categories: Breads, Breakfast, Yeast Breads
Submitted by: suzanne-mcminn on October 28, 2010