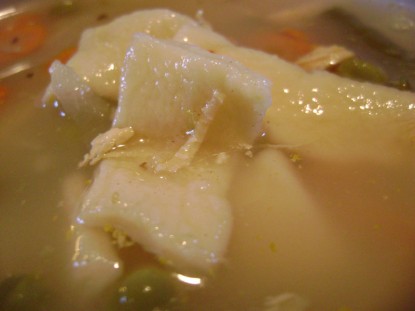 I don't do this
— I don't notice the difference of it sitting it or not. Also, some call for them to be dried before cooking. While they can be dried to be used later, I like fresh best and skip the drying process. By taking these extra steps out makes for a fast dish.
Difficulty: Easy
Servings: 5
Prep Time:
10 min
Cook Time:
10 min
Ingredients
1 egg
1/4 teaspoon salt
2/3 cup flour (about)
Directions
Beat egg slightly.
Add salt and enough flour to make a stiff dough.
Knead well.
On a floured board, roll out paper-thin with a rolling pin.
After rolling, dust top with flour. This makes pulling the noodles apart after cutting simple.
Roll up like a jelly roll.
Slice across roll into strips.
Slice strips in half.
Pull noodles apart and cook by dropping into boiling salted water or broth; cook until done, about 10 minutes.
I don't cook first then drain like I would normally do with bought noodles — I put them right into whatever dish I'm making. I scrape all of the extra flour into the pot also, it thickens the broth a bit.
Categories: Old-Fashioned, Pasta, Pasta
Submitted by: cindyp on October 28, 2010