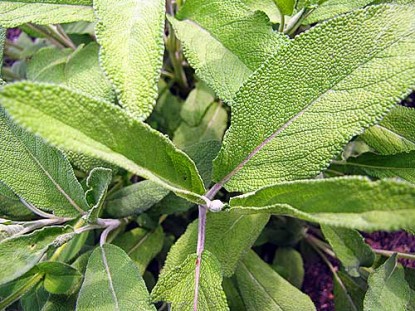 Sage, as with many of our most popular herbs, is native to the Mediterranean region. Its official name, salvia, comes from the Latin, salvare, which means to save. Sage was considered a medicinal cure-all, and indeed is known to contain antioxidant, anti-inflammatory, antiseptic, and anti-aging qualities. The ancients believed it to be a sacred herb that could even impart immortality. It's good for stomach distress, and actually promotes memory. It's prized as a decorative garden plant for its silvery-green leaves, and in the kitchen for its sweet-savory taste. What can't this herb do?
You hear about sage the most at holiday time, particularly Thanksgiving, where it plays the key role in cornbread dressing. But sage is good all year, and it's easy to grow. (Mine comes back and back and BACK.) Sage pairs well with rosemary and thyme, and is a great taste combination with pork, poultry, and turkey. But that's not all! Try sage in your mashed potatoes. Make sage butter. Throw it into beans. Add it to soups and stews.
Since I've been growing sage–and since it does so well–it makes me very loose with my sage, and I'll toss it anywhere. It's fantastic in breads, which is one of my favorite uses for sage these days.
Here are a few of my recipes using sage:
Old-Fashioned Cornbread Dressing
Fresh Herb Pull-Apart Scones
And one I want to try from Pete:
Sage Shake-in-a-Bag Mix for Pork Chops
What are your favorite ways to use sage? Do you have an unusual recipe using sage? I'd love to see it!
See all the blog posts in Herbs & Spices.



Do you have a recipe post or kitchen-related story to share on the Farm Bell blog? See Farm Bell Blog Submissions for information and to submit a post.

Want to subscribe to the Farm Bell blog? Go here.